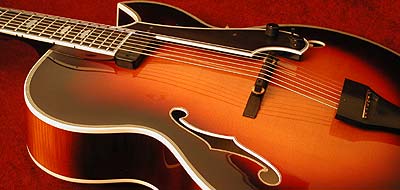 The name »Augusta« derives from »Augusta Vindelicorum«, the latin name for Augsburg where my workshop is situated. This model is a hommage to the great guitar-builder John D'Angelico.
The ornamentations in renaissance style are motives taken from Augsburg's history. The figure on the headstock is the roman god »Mercury«. The original statue can be seen on a fountain. The inlays on the fingerboard are stylised pineal nuts, which form the the crest of the city. This model is also played by Ulrich Hoffmeier of the renowned Palast Orchester from Berlin.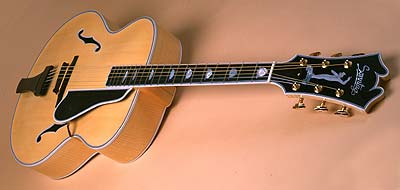 J18 »Augusta« Non-Cutaway
The Augusta Non-Cutaway Version
This kind of archtop guitar was in use in the Big Bands of the Swing era, enabling the guitarists to hold their ground even against the horns. Added depth and the additional space of the full body give this purely acoustic Augusta an even fatter tone and greater volume.
Photo gallery