Polyester
Polyester is a two-component lacquer that hardens chemically. The master batch consists of an insatiated polyester resin dissolved in styrene. Organic peroxide connections serve as hardener. As a result of the high solids content relatively thick films of varnish arise, which one can limit however by carefully applying the layers to a reasonable layer strength.
Due to the chemical hardening by precipitation and the high solids content a polyester finishing can be laid on fast and economically. Polyester lacquer is a mechanically extremely insensitive lacquer. It is sweat -, caustic solutions and acid-proof and very scratch-insensitively. For acoustic instruments however, polyester lacquer can only be recommended restrictedly. This finish can be combined with all colors from the color palette.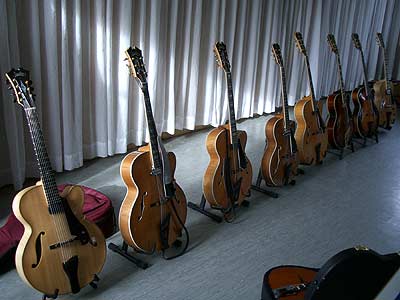 Acrylic
Acrylic lacquer is a modern two-component lacquer, i.e. it hardens not by evaporating the dilution but by the chemical reaction of the two lacquer components hardener and solved acrylate resin. It is characterised by a high solids content. Thus the layers can be applied with fewer processing steps and is therefore an Acrylic finish can be offered lower priced. The disadvantage of acrylic lacquer however is that the layers of varnish precipitates more thickly than with single component lacquers such as shellac or Nitrocellulose. But acrylic lacquer is mechanically loadable, thus scratch-proof and weldingmore resistant. This finish can be combined with all colors from the color palette.
Nitrocellulose
Nitrocellulose is a single component lacquer. It consists of dilution and solids content, the Cellulose. Nitrocellulose can be laid on very thinly, and is therefore very well suitable for acoustic instruments. The thin coating of varnish causes a very small absorption of the top and back plate. However, in order to apply the coating the high amount of work is unfavorable. Because of the minor solids content of the lacquer many layers are to be laid on, which must be sanded repeatedly, in order to achieve an uniform film of varnish. Thus results a surcharge in the case of Nitrocellulose lacquer. Nitrocellulose ages relatively fast, which causes the beautiful »ageing« effect. This finish can be combined with all colors from the color palette.