Heiner Franz is one of Germany's most renowned Jazz guitarist. He has been working as a professional Jazz musician since 1980. Not only was he playing in many bands but he was also booked for radio and TV productions and as a tutor masterclasses at universities and on many international Jazz guitar festivals.
Over the years as a guitarist he has got the chance to work with such big names of the internationeal jazz guitar scene as: Louis Stewart, Doug Raney and many others. Furthermore he is running the Jazz guitar label Jardis which specializes on jazz guitar records exclusively.
2006 he was rewarded by Andreas Polte, operator of the German internet Jazz guitar forum with the Archtop Germany Award for his merits for the Jazz guitar in Germany.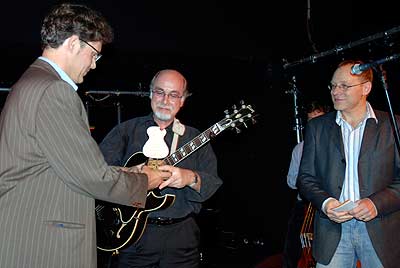 Stefan Sonntag and Heiner Franz got to know each other in 1994 when the very first Sonntag archtop was born, a J16H.
In this year Heiner Franz hold a jazz guitar course together with the exceptional Irish guitarist Louis Stewart in Augsburg. Therefore Heiner Franz works as a symbol for the access of Sonntag Guitars into the archtop scene.
For several times Stefan Sonntag was invited to Heiner Franz's Jazz Guitar Fest in Spiesen-Elversberg and they deepened their contact over the years.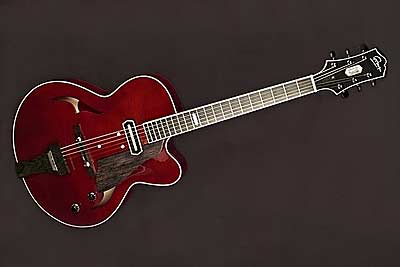 Heiner This relationship culminated in Heiner Franz ordering two Sonntag archtops in 2007, a J16H "Heiner Franz Signature" model (pictured) and a J18X Augusta.