The co-operation of Helmut Nieberle and Sonntag Guitars has been existing since 1994, when the very first Sonntag Archtop saw the light of the world at that time. Helmut Nieberle was the first who could ring some notes out of this guitar. Meanwhile Sonntag Guitars was allowed to equip Germany's most renowned 7-string player with various Archtop models and the Helmut Nieberle Signature Jazz Ukulele.
Helmut Nieberle belongs to the most experienced mainstream Jazz guitarists in Europe and is one of the rare 7-string-players. He learned playing Jazz guitar at the Berklee College in Boston (Big Band arrangement) and at workshops of the old and new guard of world's well-known Jazz guitarists: Barney Kessel, Eddie Marron, Herb Ellis, Joe Pass, Jim Hall, Attila Zoller, Peter Leitch, Karl Ratzer et al.
Broad musical spectrum
The range of his musical authority is reflected on the one hand in his own playing, and additionaly in his numerous band projects for which he compiles new programs again and again and writes all the arrangements:
Cordes Sauvages: Sophisticated Gipsy Swing with Stephan Holstein (cl), Ferry Baierl (git), Wolfgang Kriener (b) and Scotty Gottwald (dr).
Jim Mullen & Helmut Nieberle Sextett: Bluesy Mainstream with Jim Mullen (git), Bob Rueckerl (sax), Charlie Meimer (voc), Christian Diener (b) and Scotty Gottwald (dr).
Helmut Nieberle quartet: A Tribute to Cool Jazz and West Coast Sound with Stephan Holstein (cl, sax), Bob Rueckerl (bar. sax), Wolfgang Kriener (b).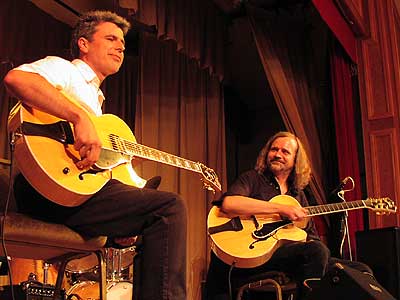 Not to forget the Jazz guitar duo Kagerer & Nieberle, who were honoured with the Bavarian Award of Culture in 1991. Speaking with the words of Mike Hennessey: »Although their styles are different, they feel the music in the same way and they have that almost telepathic relationship which is a feature of Jazz at its most eloquent and inspired level of expression«.
Teaching
Helmut Nieberle proves his music-educational and didactical abilities as a teacher for Jazz guitar at the Sing- und Musikschule in Regensburg/Bavaria for over 20 years. Here he predominantly teaches advanced Jazz guitarists in preparation for entrance examinations at national and international colleges of music. Besides he leads different ensembles, e.g. »64 Strings & 1 horn«. Further teaching activities: Advanced training of music teachers (1998 in Dillingen with Professor Joe Viera); Jazz guitar and ensemble in Burghausen/Bavaria (1998). Since 1998 he annually leads the Sonneringer Summer Workshop for guitarists and other Jazz musicians in smaller and larger formation.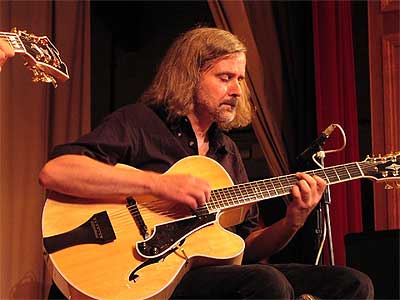 Joint projects
Last but not least Helmut leads the spring Jazz guitar clinic in Augsburg/Germany, organized by Sonntag Guitars. He is also the Mastermind behind the two CDs Volume 1 and Volume 2 produced by Sonntag Guitarss and endorsed Sonntag Guitars at various guitar shows.