On receiving his first J18X Augusta Ulrich Hoffmeier stated that this guitar takes away each single reason to buy an old archtop and put his Gibson Super 400 aside for the time being. Since 2002 Uli Hoffmeier swings Germany with his Augusta and his orchestra »Das Palast Orchester mit seinem Sänger Max Raabe«. In this context the Augusta is used for almost unamplified rhythm work like in old times.
Cooperation
Ulrich Hoffmeier is the tutor and co-organizer and of the South of France Jazz guitar clinics, conceived in cooperation with Sonntag guitars. His well-grounded training and broad interest in all aspects of the Jazz guitar allow him to teach this art in its different facets. Besides he has an unparalleled and didactically sophisticated ability to teach particularly rhythm guitar and older Jazz styles.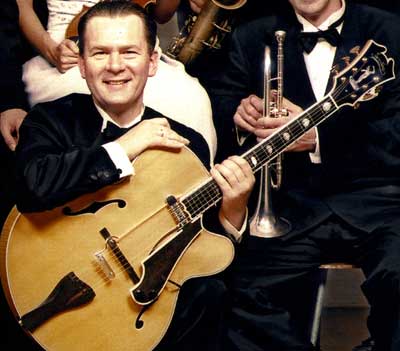 Vita
Ulrich Hoffmeier first learned violin as a child. He later added banjo, mandolin and guitar and played Irish and international folk music as a teenager in his family band. Later he studied Jazz harmony and ensemble play with Wolf Burbat and Jazz and rock guitar at the MGI in Munich with Andreas Vahsen. Besides forming his own group own group "Zigan-tzigan" he was an ensemble member of the children's music theater company »Atze«. He played in several Berlin big bands (»Constellation« under the direction of George Rak, »Corporation« under the direction of Richards, BSR big band and others), performed in theaters and accompanied singers and singers. At his music school »Griffbrett« guitar students of all ages are taught and Workshops are held.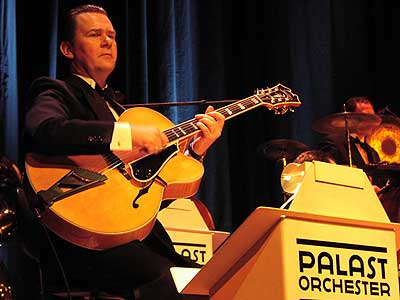 For some years now he is playing with the »Palast Orchester mit seinem Sänger Max Raabe« and studies intensively the rythm guitar technique of the early Jazz guitar. He recorded with Wolf Bierman, Jakob Lichtman, the »devil violonist from Odessa«, the singer Anja Sonntag as well as the group Zigan Tzigan and the »Palast Orchester mit seinem Sänger Max Raabe«. He and his Sonntag guitar have even performed in the venerable Carnegie Hall in New York:


Photo gallery