Lorenzo Petrocca, born in 1964 at Crotone/southern Italy, came to Germany in 1979 as an emigrant with his family. He mastered the big changes of the two cultures and the loss of everything familiar to him by the boxing - a sport he already practised in Italy before. In 1981 he succeeded in being the Champion of Wuerttemberg in his weight class.
From 1982 on he showed his first musical interests. He then was already 18 years old. And so he bought his first electric guitar. Soon after that he already played with Italien dance bands, from 1986 on within soul and funk bands among American soldiers. He finally discovered Jazz in 1989 when he was already 25 years old.
Today Lorenzo Petrocca can be heard with his »Lorenzo Petrocca Quartet«, his trio and with his three brothers Davide, Antonio and Franco as »The Petrocca Brothers« all over Germany and more and more in his home country Italy as well as in many European countries. Lorenzo Petrocca is also a demanded sideman — for example as a permanent member of »The European Swingstars« — a band that comes together several times a year to tour within Europe.
Lorenzo Petrocca played in following countries:
Italy, Switzerland, Germany, France, Belgium, USA, Luxembourg, Austria, Croatia, Slowenia, Poland, Russia, Mozambique, South-Africa, England, Ireland, Scotland, North Ireland, Estland, Finnland and Sweden.
In April 2001, he received the Honorary Citizenship of the City of New Orleans after a one week tour through Lousiana/USA.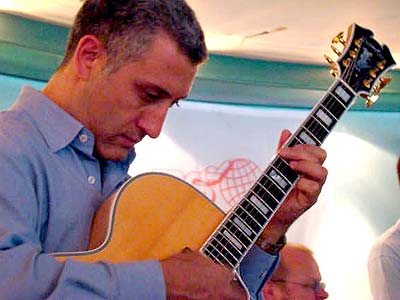 Lorenzo Petrocca has toured and recorded with:
Monty Alexander, Herb Ellis, Martin Drew, Jim Snidero, Tony Scott, Tootie, Jimmy und Percy Heath, Dusko Goykovich, Danny Moss, Oscar Klein, Ack van Rooyen, Lars Erstrand, Benny Bailey, Billy Mitchel, Peanuts Hucko, Jeff Clayton, Don Rader, Harry Allen, Jiggs Whigham, Peter Herbolzheimer, Bobby Burgess, Howard Levy, Tony Mann, John Ruoco, Ron Williams, Dave Glasser, Jasper Thilo, Hazy Osterwald, Pete York, Alan Barnes, Al Martino, Bruno de Filippi, Gianni Basso, Andrea Marcelli, Paolo Pellegatti, Paolo Tommelleri, Jimmy Larocca, Massimo Moriconi, Calogero Marrali, Giuseppe Milici, Stefano Bagnoli, Anne-Sophie Mutter, Charly Antolini, Emil Mangelsdorf, Max Greger jr., Gustl Mayer, The European Swing Stars, Bill Ramsey, Heiner Franz, Bruce Adams, Paul Kuhn, Wolfgang Schlüter, Roman Schwaller, Isla Eckinger.
Gallery