8th International Workshop for Jazz Guitar and Vocals 2022 in Bolzano/Italy 
at Hotel Schloss Korb, Eppan/South Tyrol/ Italy

April 26-30, 2022

with 
The guitar group is booked up already. If you wish to be registered on the waiting list send a message to info@sonntag-guitars.com. In case of a cancellation you can take over the free seat.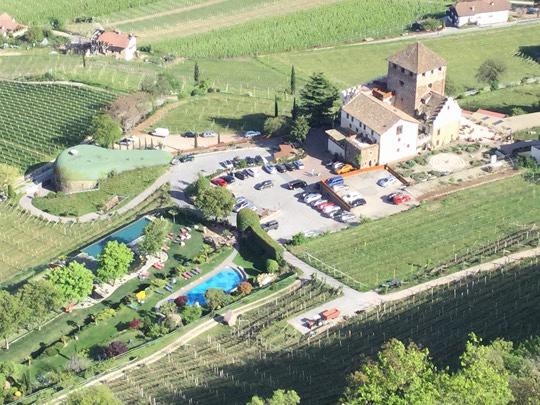 2020 and 2021 were some really challenging years, to say the least.  The Covid pandemic caused us to cancel our workshops in Bozen, which was a big disappointment. But, much worse, in February our long time instructor Helmut Nieberle lost his brave battle against cancer.
Helmut was a guitar giant, with a wonderful intuition for melodies and swing. A sensitive instructor, he managed to find just the right tone for each student. His charm and subtle humor made every gig and workshop an unforgettable experience. It is a huge loss not to have Helmut with us any longer and we will miss him so much!
In his honor, I officially dedicate all future workshops at Hotel Korb to Helmut, titled as the  'Helmut- Nieberle- Memorial- Workshop.'  We know he will always be with us in spirit.
 
In times of tragedy, music is more important than ever:  we need to carry on. So April  2021 a new workshop for jazz guitar and vocals will be held at the wonderful Hotel Schloss Korb in Eppan near Bozen.
Shortly before Helmut passed away we pondered together who might be his successor.  He wished for Bruce Forman from Los Angeles, with whom he recently played a house concert. It was their very first encounter, but they hit it off right away, as if they had been playing together for years. What a treat to hear them playing that way!
Bruce Forman will complete our superb trio of instructors, along with Paulo Morello, professor of jazz guitar in Nürnberg and NYC-based jazz singer-songwriter Jeanne Gies for the vocal class.
All three are great virtuosos, awesome musicians and competent instructors with years of stage and teaching experience. And what is more, they are open minded and carry on Helmut's penchant for good hearted humor. Two important characteristics to make the workshop a truly enjoyable and creative experience for all.
Paulo and Jeanne have been part of our Bozen workshop for years now, which speaks for itself. Together with Bruce they will ensure that this highly successful and wildly popular workshop series at Schloss Korb continues as a legacy to the incomparable Helmut Nieberle. 
At this workshop we believe in taking care of both 'body and soul.' The Schloss owners Ruth and Fritz Dellago and their staff take care of us with love and devotion. The exquisite cuisine and the wine cellar cater to every desire to sweeten the days at the Schloss and to make us temporarily forget the rest of the world.
Can there be anything more blissful for singers and guitarists than hanging with like-minded people in this groovy ambiance and immersing ourselves in music? I can't think of anything … Last year instructors Jeanne and Helmut got together after the workshop for a day in the studio. The result:   
Tomorrow and Today released by Bobtale Records. Available on Spotify, iTunes, and: signed copies at the 2020 workshop! 
'The duo of singer Jeanne Gies and 7-string guitarist Helmut Nieberle is the musical marriage of two soulful, sensitive artists, both in full command of their respective crafts.  They share a melodic and rhythmic elasticity that allows this batch of classic standards to breathe—a gift that was given the name "jazz" over a century ago and of which Jeanne and Helmut are top shelf contemporary practitioners.  Most importantly, this is stuff that comes from the heart.' 
—Michael Simmons, contributor MOJO Magazine, award winning journalist
ASCAP Award Winner for liner notes 2015 
Important note on Covid requirements: The hotel has the 3G rule: Access only for persons who are vaccinated, Covid recovered, or persons with a valid negative Covid-test.
Please check the current entry rules for Italy in your country! You might need to fill in an entry form.
With these important rules, we will have a safe, healthy, productive environment to make beautiful music!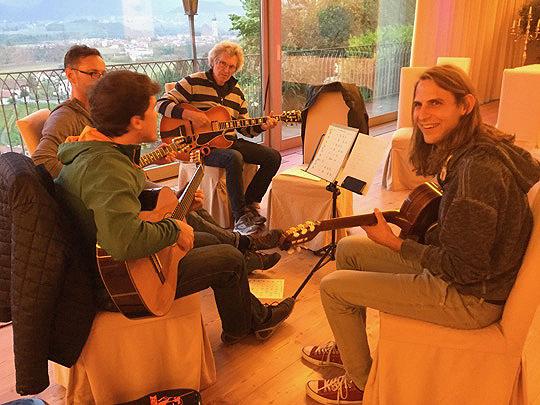 Our Instructors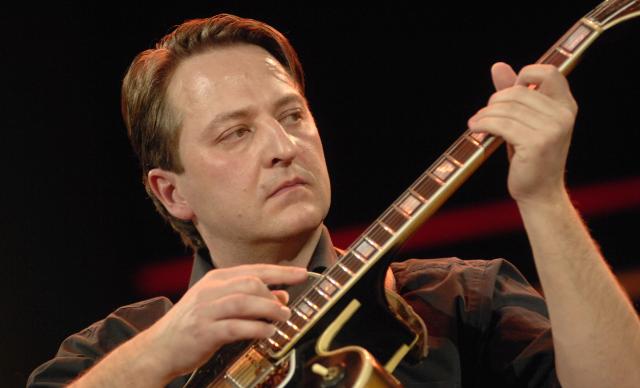 Paulo Morello 
has gained a superb reputation as one of the most versatile jazz guitarists in Europe. He is known for his Brazilian projects featuring Grammy winner Leny Andrade and the "Night of Jazz Guitars" featuring Larry Coryell. His unique and expressive style of playing reveals influences of many of the most influential guitarists in jazz like Joe Pass, Pat Martino and Mike Stern, among others.
Paulo experienced his initiation to Hammond-trio playing as sideman of the legendary Johnny Smith, whom he accompanied on his last tour through Europe. He has toured with his own organ trio 'Hammond Eggs', featuring musicians like Randy Brecker and Bob Mintzer. He has worked with Paul Kuhn, Ivan Lins, Philip Catherine, Airto Moreira, Roberta Gambarini, André Ceccarelli and the Bamberger Symphonikern. Paulo has a professor's chair for jazz guitar and Latin music at the Hochschule für Musik in Nuremberg.
'Paulo Morello's guitar sounds like George Benson has moved to Rio de Janeiro' (AZ newspaper Munich)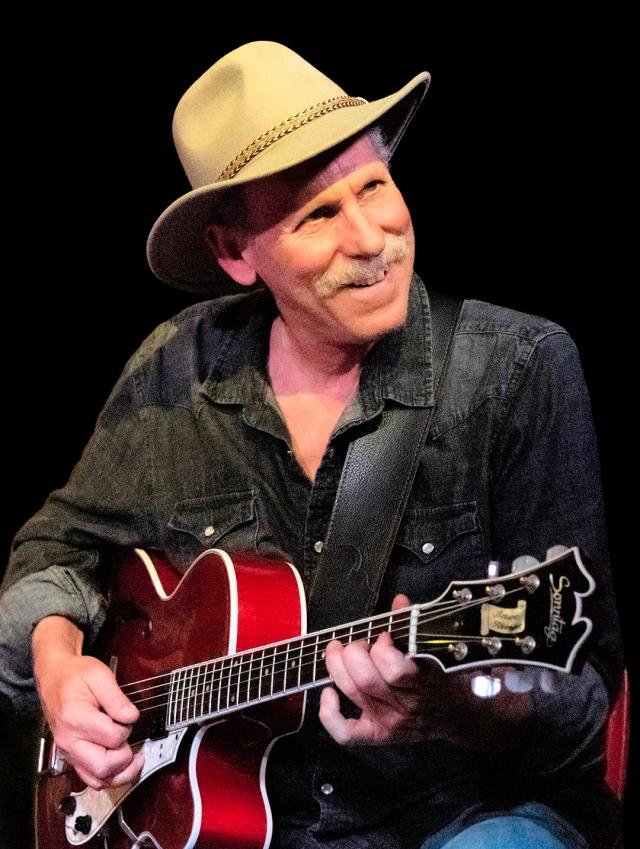 Bruce Forman 
Like Helmut, Bruce is a real master on the guitar. His diverse musical skills range from ass-kicking bebop and old time western swing to far out improvisational explorations. He has performed with numerous jazz greats of the US- jazz history like Ray Brown, Bobby Hutcherson, Roger Kellaway and many more. Three Clint Eastwood films where set to music by him. He is a band leader, solo performer and entertainer in one person. He teaches jazz guitar at the University of Southern California. All these experiences give Bruce the ability to pass on this concentrated competence and his knowledge of the jazz guitar in particular and music in general to the students in class. 
The Singers 
Acclaimed jazz singer songwriter Jeanne Gies conducts the vocal workshops. Her home base is NYC, where she has performed and recorded with many jazz greats including guitarists Howard Alden, Russell Malone, Romero Lubambo, Bucky Pizzarelli, and Jack Wilkins, bassist Gerald Cannon, saxophonist Sherman Irby, drummer Willie Jones III, and many others. A highly experienced vocalist lauded for her distinctive phrasing and riveting live performance, Jeanne's recent tours include Germany, Scotland, and England. She penned the lyrics for her most recent recording Window 'da janela.' Recorded in Brazil, Window features the music of prolific composer Manu Lafer. You can hear many of Jeanne's recordings on Spotify.Jeanne's versatility and functional teaching methods allows singers from every genre and all levels of proficiency to thrive in this workshop. All are provided a creative, non-judgmental environment to develop their vocal craft. Singers are encouraged to bring songs that they dream of singing; the workshop culminates in a concert where all are welcomed to perform. Jeanne also specializes in assisting non-native English speakers who strive for accent free performance, and those who have vocal issues due to anxiety or strain. In addition to group workshops, singers may sign up for private sessions. Individualized private lessons are also offered via skype prior to the workshop: contact jeannegies@gmail.com.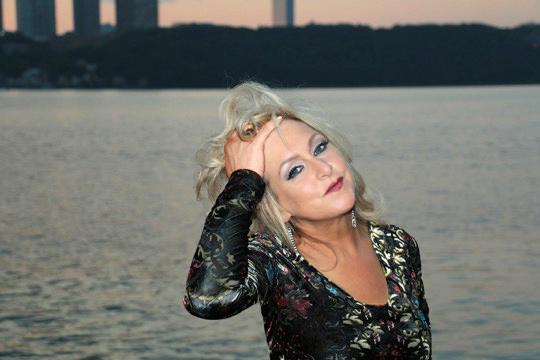 The guitar workshop includes a segment on vocal accompaniment. Guitarists and singers meet in the beautiful surroundings of this stunning castle where they explore creative ways to work together and discover new musical experiences. All of the tutors specialize in the art of the guitar/vocal duo and will focus on this intimate form of expression. During the lessons and nightly jam sessions, all students have the opportunity to perform with each other and the tutors to increase the mutual understanding of their individual instruments and the teamwork involved in this musical communication. The result: an unforgettable experience of growth and creative expression. 
Our Hotel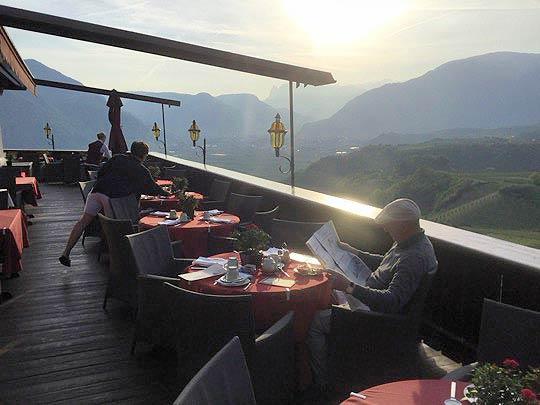 The workshop will be conducted at the stylish and classy Schlosshotel Korb at Eppan near Bozen, owned and run by the family Dellago for generations. The hotel is situated on a marvelous position high above the Etsch river valley in the midst of vineyards which belong to the Family Dellago. The family runs its own winery there. As the name implies ('Schloss' means castle), one part of the hotel used to be an ancient castle dating back to the 13th century. In the course of the centuries various buildings were added. The rooms are lovingly and elegantly furnished, each one an individual expression of taste and style.Guests can use one indoor pool with sauna and Turkish steam bath and two outdoor pools, tennis courts and WLAN in the buildings. The restaurant serves delectable cuisine; attentive and professional stewards care for the needs of the guests. For more details on the hotel check out their website schloss-korb.com.
The lessons will be held in three seminar rooms, which are exclusive to our use during the workshop days. With fair weather we have an option of studying outdoors on various terraces or parks. Hotel Korb offers pick up service from Bozen main station or airport for attendees who travel by public transportation. 
Our Rooms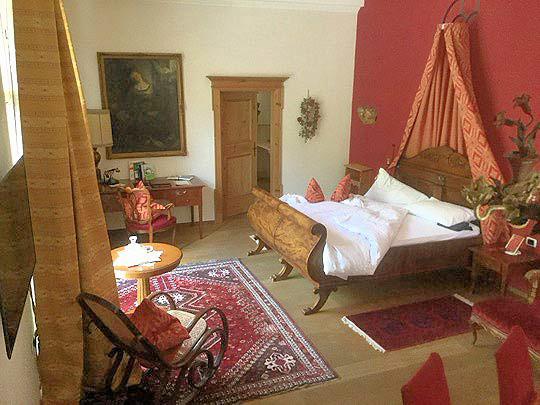 The hotel offers three room categories:
Suites for € 150
Standard rooms for € 117
Economy rooms for € 100 
These prices include half-board without alcoholic drinks (for Non-EU participants: half-board means a magnificent breakfast and four course dinner are included!)
Choose your desired room category when registering. Rooms will be assigned in order of registration subject to availability.
Booking will be done individually by the participants, please call  +39 0471 636000,  info@schloss-hotel-korb.com
When booking please quote the keyword 'Jazz-Workshop' 
The Workshop
First course day: April 26th, last course day April 30th
The last evening of the workshop (April 30th) will conclude with a concert featuring students and instructors: all are invited to take part! 
Students depart after breakfast and fond farewells on May 1st

Daily lessons will take place from 10 a.m. to 1 p.m.
We will have two guitar groups, one with each tutor. Half way through the workshop the groups will exchange tutors.
We will have one vocal group, private lessons available upon request
Jeanne Gies will conduct lessons in English
A Bose sound system is available for the singers
Everybody is invited to begin or join a session at any time, and participate in nightly jam sessions
Please don't forget to bring a music stand and an amp if needed
There will be Sonntag guitars available for being tested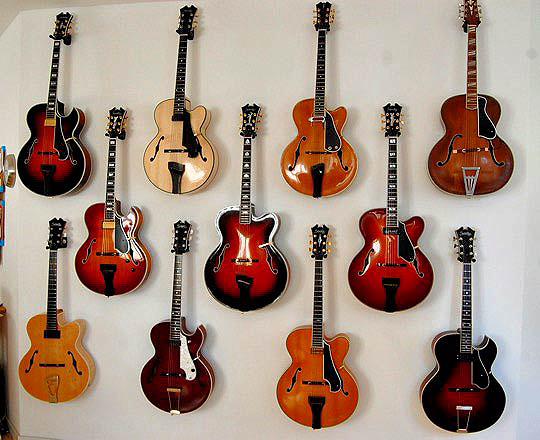 Conditions
Deadline: February 26th, 2022 
Costs for the course: €490 
Transfer information:
Please wire the workshop fee to the account of 
Stefan Sonntag
Address: Faerberstr. 40a, 86157 Augsburg
IBAN: DE45 7205 0000 0810 8263 54
BIC/SWIFT: AUGSDE77
Bank: Stadtsparkasse Augsburg
Bank address: Augsburger Str. 26, 86157 Augsburg 
You will be entitled to attend the course only after receipt of your payment on the account mentioned above. Please contact Stefan at info@sonntag-guitars.com with payment questions. 
In case of cancellation 
In case of student cancellation until February 26th, 2022
the complete course fee minus € 50,- will be refunded. After February 26th, 2022
there will be no refund.
If the workshop is cancelled for any reason the course fee will be completely refunded. 
Application