Supergain TV as a guest of Sonntag Guitars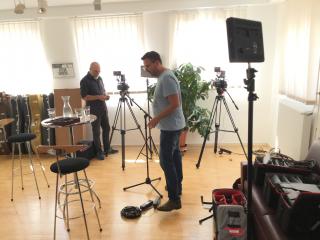 Michael Vochezer und Enrico Coromines, who run the Youtube channel Supergain TV  and the Guitar Academy with the same name in Munich, were "on the road". They came visiting me and my shop in order to shoot a documentary on Sonntag Guitars and archtop guitars in general and particular. I was happy to participate and to tell them about me, my shop, my career and my guitars.
But better you watch yourself. Here you find the first part of the interview. The second part will be out soon...
Sonntag Guitar #3000320 
Beginning of March 2020 it was about that the 300th Sonntag guitar was completed.
It is numbered #3000320 and the model is a J17X Standard which will serve as an inventory guitar in my show room.
My workshop has been founded 27 years ago and lots of wood have been transformed into guitars on my work bench since then. I admit I take some pride in so many guitar players trusting my abilities and have me made them their desired guitar.
Among them those renowned players like Helmut Nieberle, Bruce Forman, Wesley G., Scott Henderson, Uli Hoffmeier and many others. 
Not to forget all those hobby guitarists who enjoy the sound of their Sonntag guitar for their own pleasure. 
I am very pleased to know that the result of my own hands work gives fun and joy to so many people!
Here's to the next 300 Sonntag guitars! 
Epitaph: Helmut Nieberle, ✝2020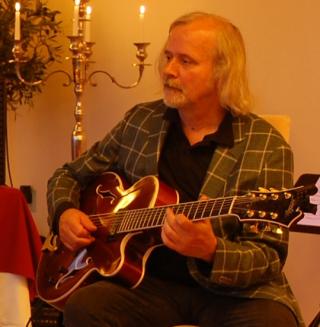 On February 9th, 2020 Helmut Nieberle passed away after a noble fight with bone cancer.
Like no one else, Helmut shaped me and my work through his love of the jazz guitar. We have been connected since I visited him with my very first archtop at the Birdland Jazzclub in Neuburg/ Bavaria in 1994. There the two famous Helmuts ( Helmut Kagerer & Helmut Nieberle) played a gig and I was advised to go there to introduce my new guitar to them. 
They showed polite interest and I thought to myself, ok, at least I've tried.
But soon after that Helmut Nieberle started to send his students to my shop, and one student after the other ordered guitars on his recommendation. In that year our cooperation commenced and lasted until his tragically premature passing.
Just as Helmut cherished my guitars, I learned to love his subtle and humorous personality and his elegant and tasteful guitar playing. I was enraptured by his unique style and ability to breathe new life into jazz standards, choros or any genre and let the music sing.
However, the most beautiful moments happened when he took the guitar on evenings at workshops, bars or private venues and gave free rein to his desire to make music. Those intimate moments are unforgettable, and will keep Helmut in my heart forever.
My only comfort is that he can sit in at the eternal jam sessions with all the jazz greats he so admired. 
I will miss Helmut so much. His death is a great loss for all, and an irreplaceable loss for all lovers of jazz guitar. 
Stefan Sonntag

I had the privilege of teaching with Helmut (along with Paulo Morello) for the past seven years at the guitar/vocal workshop organized by Stefan Sonntag. He was my mentor, and especially, my dear friend. Last May, by a series of miracles, Helmut and I were able to do a very spontaneous recording. We laughed, cried, and jammed at his dinner table, and recorded the next day, just the two of us, with the great Sven Faller. It was a truly spiritual musical conversation. I felt like everything I've ever learned as a singer and musician came together at that moment. Helmut touched many lives with his grace, wisdom, and unfailing humor: surely he touched mine. I am humbly grateful. Godspeed dear Helmut: I hope you are teaching all those guitar angels how to play with a singer!!
Jeanne Gies (New York) 
Flashback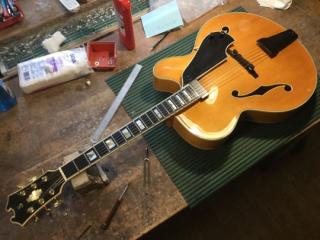 What a nice reunion: one of my very first archtops is back at my shop for service. Built in 1995, it was one of four in the second series.
I was still searching for the final headstock shape, you can see the first version of my logo, deep cutaway, large f-holes. All features which were altered until the current version has evolved.
This guitar is very well broken in and has nicely seasoned. Now owned by a fellow in Zürich. 
Scott Henderson plays Sonntag Guitars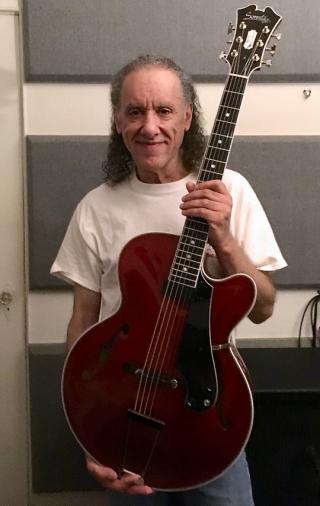 I am very happy to welcome Scott Henderson to the Sonntag Guitars player family.
Primarily Scott is known as a fusion player, which music he mainly plays on solid body guitars. But he can deliver mainstream jazz and bebop as well. For this purpose he got himself a Sonntag J16H Ballade.
About two years ago Scott borrowed Bruce Forman's Ballade in order to record the tune "Chelsea Bridge" for his cd " Vibe Station" (a very recommendable cd by the way!). Then he was hooked and I was super stoked when he got back to me and ordered the very same model.
However, the headstock is not inlayed with the "Bruce Forman" character, of course "Scott Henderson" is written there.
I regard it as a big honor to call a guitarist of his caliber a Sonntag-player.
I hope Scott will be inspired by his new Ballade to many more beautiful and acoustic sounding jazz tunes! 
New Model out: J17H with Fan Fretted Fingerboard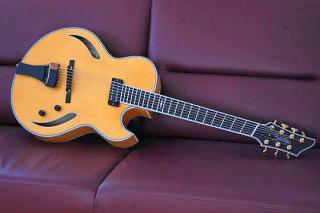 As of now 7-string Sonntag Guitars are available with fan fretted fingerboard. 
The fan results from the use of two different scale lenghts. The e-string is shorter, the A'-string is longer. I use a 64,4cm-scale and a 67cm scale which combination turned out to be very handy.
To explain the sonic background: The bass strings have more tension due to the longer scale length. Therefore they sound more concise, clearer and more powerful. Which makes very much sense on a 7-string guitar.
Actually I intended to use this new J17H Brigit pictured here as the new inventory guitar. But I showed it to Helmut Nieberle in advance and he immediately fell in love with this model. So I had to commit it to him, which was not a big sacrifice, since there is no better place for that guitar than in his hands.
I will rebuild a new 7-string gutiar with fan fret fingerboard soon, which will become the official inventory gutiar then. 
25th Anniversary of Sonntag Guitars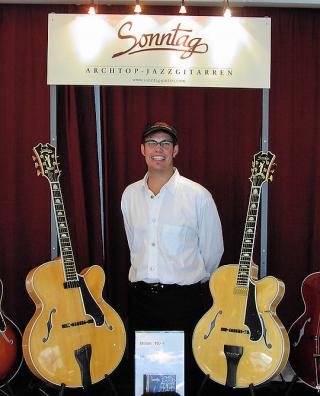 December 1st, 2018: The opening of the workshop of Sonntag Gitarrenbau is the 25th anniversary! 
On December 1st, 1993 I officially registered my workshop. At the beginning, the focus of my workshop was on the classical guitar. However, my model range quickly expanded to all kinds of guitars: electric solid bodies, steel string flat tops (a total of five pieces), flamenco guitars (a total of two pieces) and Maccaferri copies (also a total of five pieces). 
The first order for an archtop guitar came in 1994. I had wanted to build this type of guitar since beginning my apprenticeship in 1986, but waited until spring ´94, when this project took shape. There were the stories from the big bands in the 30's and 40's, when the guitarists played acoustic rhythm on archtop guitars. As a young guitarist in the 80's and 90's I found it hard to believe that this was possible with an acoustic guitar. Most archtops that were recently built were made of plywood, and electrified, Ibanez, Gibson or other mass production manufacturers. Some solid-wood models were built by Heritage or some other Gibsons, but they didn't seem to have a big acoustic voice either. The stories of the legendary guitars from the pre-war period, and handmade D'Angelico or D'Aquisto guitars inspired me follow in their legendary footsteps. 
So when Alexander Ruhland ordered the very first archtop from me, he founded my career as an archtop guitar specialist. 
Since then, I have built more than 300 archtop guitars, and I am happy that the orders come from all over the world. From Europe and North America, Australia and China. It is especially gratifying that such renowned guitarists as Helmut Nieberle, Bruce Forman, Wesley G., Scott Henderson, Uli Hoffmeier, Michael Arlt and Robin Nolan play their music with my guitars. (see: my artists).
I would like to thank all those who have supported me over the last 25 years. All of you made it possible for me to pursue my passion for the archtop guitar. 
To the next 25 years of Sonntag Guitars!!!