10th International Workshop for Jazz Guitar and Vocals 2024 in Bolzano/Italy 
at Hotel Steinegger, Eppan/South Tyrol/ Italy
May 6-10, 2024
with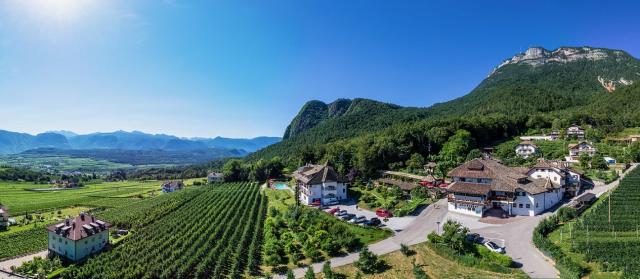 In 2023 we transitioned our workshop to a new hotel. I was hopeful our all-day music would be received well.  Our new hosts at the hotel, Verena and Michael Eisenstecken, welcomed us with open arms and supported us wherever they could.  I could not have asked for a better experience:  we were embraced by both guests and hotel management (even though music was constantly played in the house!)We were provided with beautiful rooms for our lessons and could spread out over the whole house. In the evening we used the amazing hotel bar for jams, where we raised the roof with music and singing.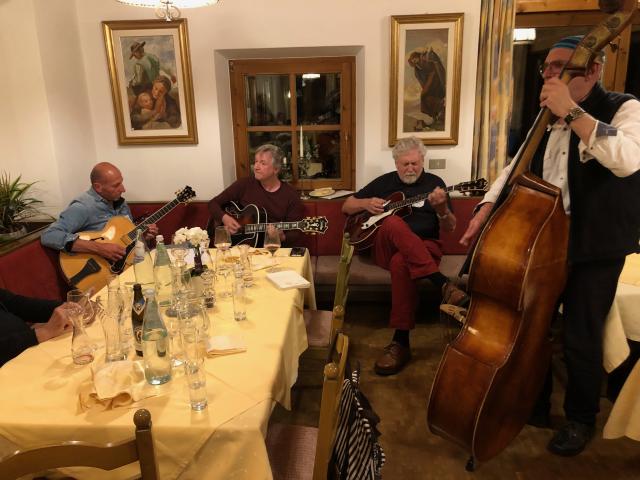 The hotel itself captivates with South Tyrolean charm and fine local cuisine. The location high above the valley with the breathtaking view is incomparable.There is also a spacious spa and wellness area led by Renate Eisenstecken where you can refresh your body and mind.That's why I'm SO happy to bring the workshop back to Hotel Steinegger in 2024 to Verena and Michael, who have as much fun with our music as we do.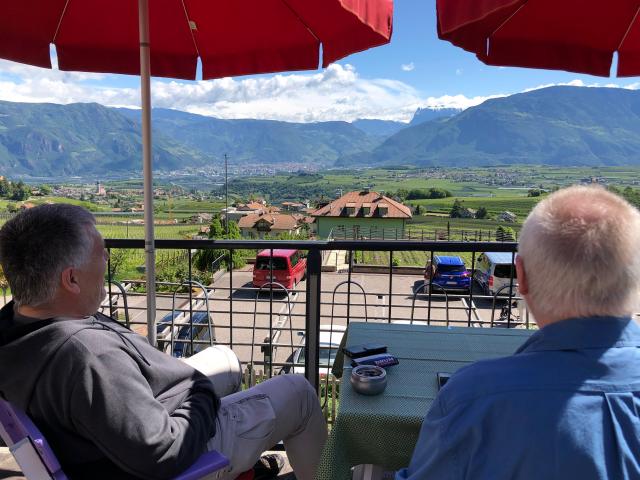 The course will again be dedicated to our long-time lecturer Helmut Nieberle, who unfortunately passed away much too early in 2020.
Our amazing instructors Paulo Morello, Bruce Forman and Jeanne Gies will continue his musical legacy and of course enrich it with their own style:

Paulo Morello structures his lessons with ample practice sheets. Depending on the level and interest of the group, all topics relevant to jazz guitar will be covered. In addition, he offers practice strategies based on the individual abilities of the participants.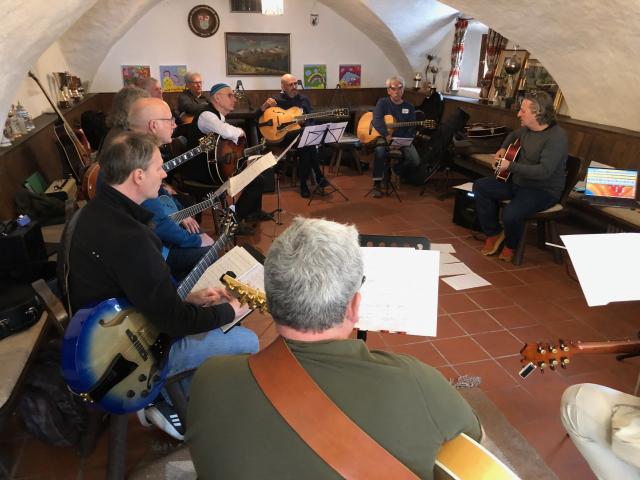 This is Jeanne Gies' approach: Her wildly popular teaching methods are simple and practical:  everybody sings every day! Instruction is individualized to the experience level and interests of each student.  Healthy voice production, vocal styling and song interpretation, repertoire, mic technique, and the art of working with an accompanist are among the many areas of musical magic addressed

And Bruce Forman puts it like that: Discover the music and the guitar. Techniques for expanding your knowledge and enjoyment…and to play what you hear!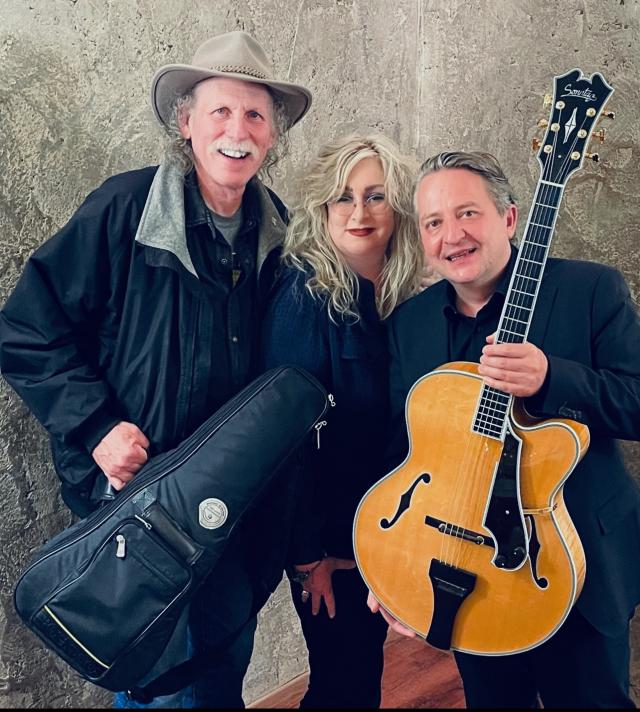 Under these conditions we have good conditions to conduct a successful and inspiring course at a new location with proven instructors. We are looking forward to lots of music. The hotel grounds offer plenty of space to jam or practice alone or in groups, to exchange ideas or just to hang.
The instructors are also available to answer questions outside of class time, and with their wealth of experience they can help participants with any musical issue. Whether it's for practicing or for the stage, Paulo, Bruce and Jeanne are up to speed and have advice for every situation.
 
Tomorrow and Today released by Bobtale Records. Available on Spotify, iTunes, and: signed copies at the 2020 workshop! 
'The duo of singer Jeanne Gies and 7-string guitarist Helmut Nieberle is the musical marriage of two soulful, sensitive artists, both in full command of their respective crafts.  They share a melodic and rhythmic elasticity that allows this batch of classic standards to breathe—a gift that was given the name "jazz" over a century ago and of which Jeanne and Helmut are top shelf contemporary practitioners.  Most importantly, this is stuff that comes from the heart.' 
—Michael Simmons, contributor MOJO Magazine, award winning journalist
ASCAP Award Winner for liner notes 2015 
Our Instructors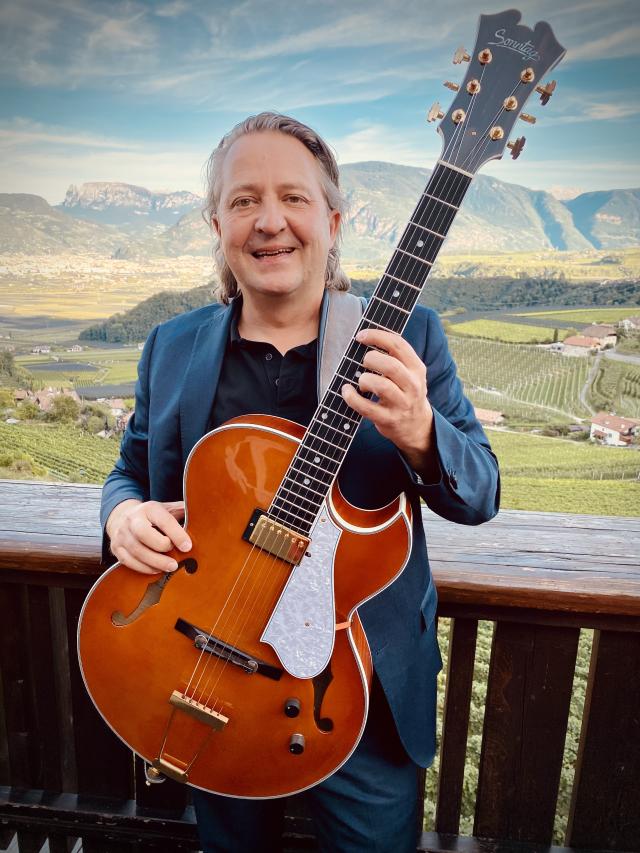 Paulo Morello 
has gained a superb reputation as one of the most versatile jazz guitarists in Europe. He is known for his Brazilian projects featuring Grammy winner Leny Andrade and the "Night of Jazz Guitars" featuring Larry Coryell. His unique and expressive style of playing reveals influences of many of the most influential guitarists in jazz like Joe Pass, Pat Martino and Mike Stern, among others.
Paulo experienced his initiation to Hammond-trio playing as sideman of the legendary Johnny Smith, whom he accompanied on his last tour through Europe. He has toured with his own organ trio 'Hammond Eggs', featuring musicians like Randy Brecker and Bob Mintzer. He has worked with Paul Kuhn, Ivan Lins, Philip Catherine, Airto Moreira, Roberta Gambarini, André Ceccarelli and the Bamberger Symphonikern. Paulo has a professor's chair for jazz guitar and Latin music at the Hochschule für Musik in Nuremberg.
'Paulo Morello's guitar sounds like George Benson has moved to Rio de Janeiro' (AZ newspaper Munich)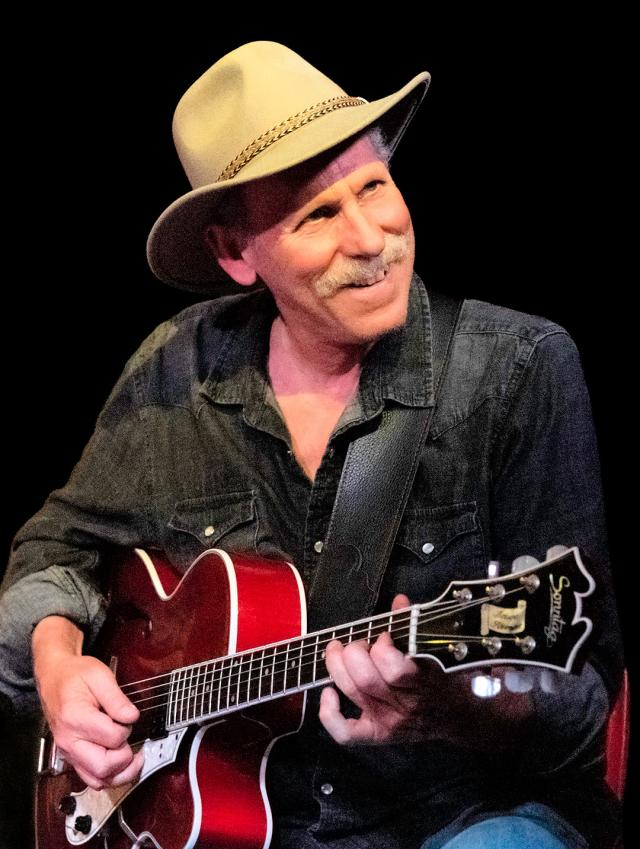 Bruce Forman 
Like Helmut, Bruce is a real master on the guitar. His diverse musical skills range from ass-kicking bebop and old time western swing to far out improvisational explorations. He has performed with numerous jazz greats of the US- jazz history like Ray Brown, Bobby Hutcherson, Roger Kellaway and many more. Three Clint Eastwood films where set to music by him. He is a band leader, solo performer and entertainer in one person. He teaches jazz guitar at the University of Southern California. All these experiences give Bruce the ability to pass on this concentrated competence and his knowledge of the jazz guitar in particular and music in general to the students in class. 
The Singers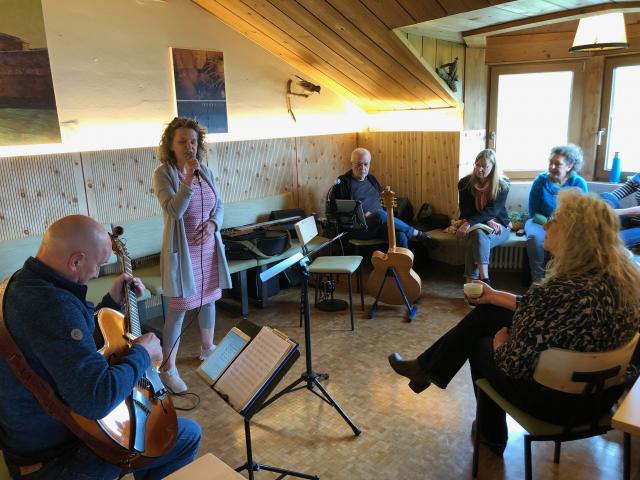 Acclaimed jazz singer songwriter Jeanne Gies conducts the vocal workshops. Her home base is NYC, where she has performed and recorded with many jazz greats including guitarists Howard Alden, Russell Malone, Romero Lubambo, Bucky Pizzarelli, and Jack Wilkins, bassist Gerald Cannon, saxophonist Sherman Irby, drummer Willie Jones III, and many others. A highly experienced vocalist lauded for her distinctive phrasing and riveting live performance, Jeanne's recent tours include Germany, Scotland, and England. She penned the lyrics for her most recent recording Window 'da janela.' Recorded in Brazil, Window features the music of prolific composer Manu Lafer. You can hear many of Jeanne's recordings on Spotify.
Jeanne's versatility and functional teaching methods allows singers from every genre and all levels of proficiency to thrive in this workshop. All are provided a creative, non-judgmental environment to develop their vocal craft. Singers are encouraged to bring songs that they dream of singing; the workshop culminates in a concert where all are welcomed to perform. Jeanne also specializes in assisting non-native English speakers who strive for accent free performance, and those who have vocal issues due to anxiety or strain. In addition to group workshops, singers may sign up for private sessions. Individualized private lessons are also offered via skype prior to the workshop: contact jeannegies@gmail.com.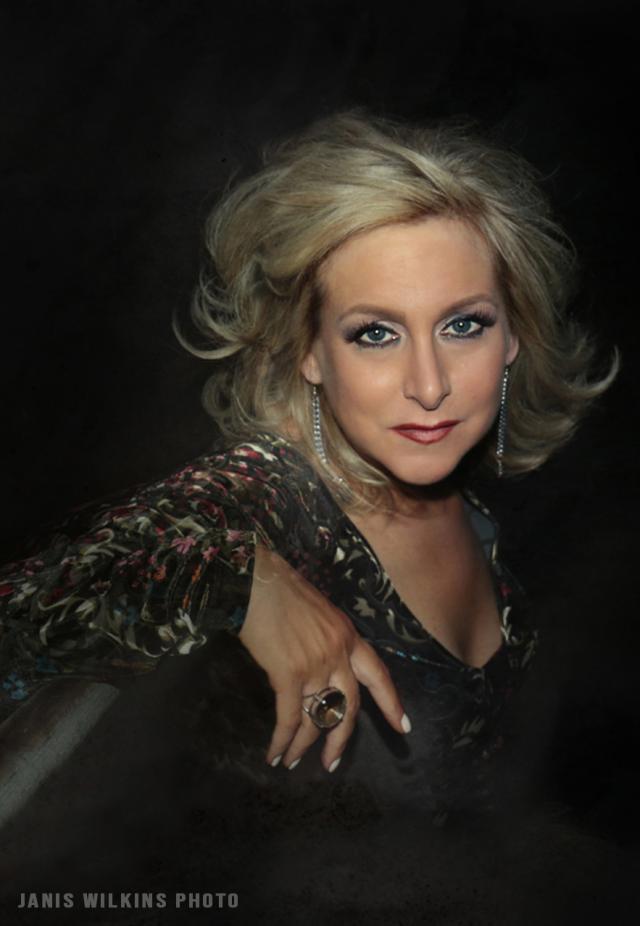 The guitar workshop includes a segment on vocal accompaniment. Guitarists and singers meet in the beautiful surroundings of this stunning castle where they explore creative ways to work together and discover new musical experiences. All of the tutors specialize in the art of the guitar/vocal duo and will focus on this intimate form of expression. During the lessons and nightly jam sessions, all students have the opportunity to perform with each other and the tutors to increase the mutual understanding of their individual instruments and the teamwork involved in this musical communication. The result: an unforgettable experience of growth and creative expression. 
Our Hotel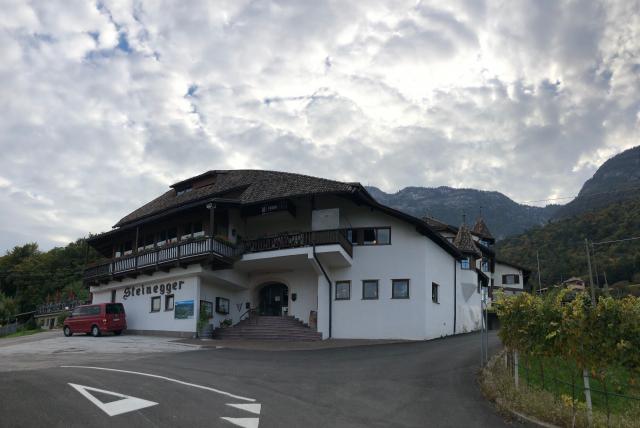 The participants book their rooms individually.
When booking please quote the keyword 'Jazz-Workshop'

Prices, incl. half-board:
€103,-, 109,- or €148,- per person

Please ask for availability at the hotel. 


There are 28 rooms reserved for us at Hotel Steinegger. Booking at:
+39 0471 66 22 48
info@steinegger.it
We encourage EARLY booking!!!  If Hotel Steinegger is fully booked for the course, those who book later can stay at two other hotels in the neighborhood of Hotel Steinegger:
Haus St. Valentin and Hotel Matscher. Those hotels are only about a two-minute walk away. 
Booking at:
Haus St. Valentin
0039 334 3796993, info@holiday on the farm
You find prices here. Prices are expected to increase next year. Please ask at the House of St. Valentine for the valid price. 

Hotel Matscher
0039 0471 664014, info@ferien-suedtirol.com

Single: €100,- or €138,- per person


Prices excluding half-board. Participants staying at Hotel Matscher or Haus St. Valentin will be able to have meals together with the group at Hotel Steinegger.
 
Half-board will be payed extra at Hotel Steinegger
The Workshop
First day of the workshop is May 6th, last day of the workshop is May 10th.

Day of arrival: May 5th, day of departure: May 11th


The last evening of the workshop (May 10th) will conclude with a concert featuring students and instructors: all are invited to take part! 
Students depart after breakfast and fond farewells on May 1st

Daily group lessons will take place from 10 a.m. to 1 p.m.
We will have two guitar groups, one with each tutor. Half way through the workshop the groups will exchange tutors.
We will have one vocal group, private lessons available upon request
In addition to the daily group sessions, extra private vocal lessons are available by Jeanne Gies for both singers and guitar players for a fee.  Contact jeannegies@gmail.com for further information. 


Jeanne Gies will conduct lessons in English
Remember to bring a music stand, microphone, or anything else you need to perform during the lessons.  We do provide a mic for the group sessions if you don't have one.


A Bose sound system is available for the singers
Everybody is invited to begin or join a session at any time, and participate in nightly jam sessions
Please don't forget to bring a music stand and an amp if needed
There will be Sonntag guitars available for being tested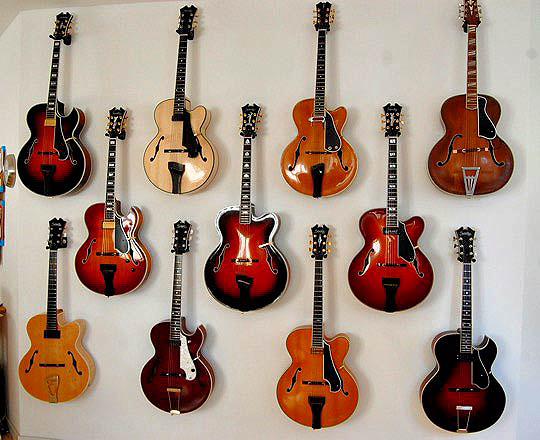 Conditions
Deadline: March 6, 2024
Costs for the course: €570,-
Transfer information:
Please wire the workshop fee to the account of 
Stefan Sonntag
Address: Faerberstr. 40a, 86157 Augsburg
IBAN: DE45 7205 0000 0810 8263 54
BIC/SWIFT: AUGSDE77
Bank: Stadtsparkasse Augsburg
Bank address: Augsburger Str. 26, 86157 Augsburg 
You will be entitled to attend the course only after receipt of your payment on the account mentioned above. Please contact Stefan at info@sonntag-guitars.com with payment questions. 
In case of cancellation 
In case of student cancellation until March 6, 2024  the complete course fee minus € 50,- will be refunded. After March 6, 2024 
there will be no refund.
If the workshop is cancelled for any reason the course fee will be completely refunded. 
Application