Workshop for Jazz Guitar and Vocals
at Bolzano/South Tyrol-Italy
from April 25th-28th, 2014
Tutors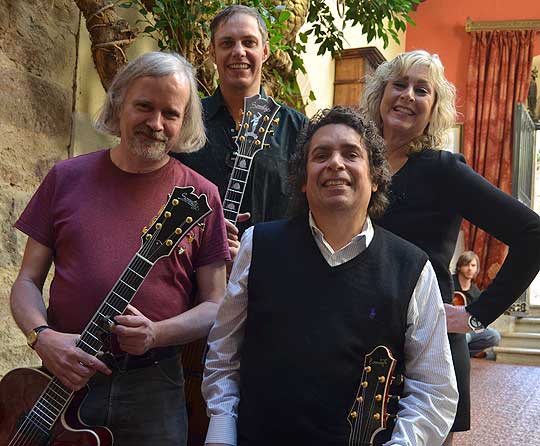 From left: Helmut Nieberle, Stefan Sonntag, Howard Alden, Jeanne Gies.
Ort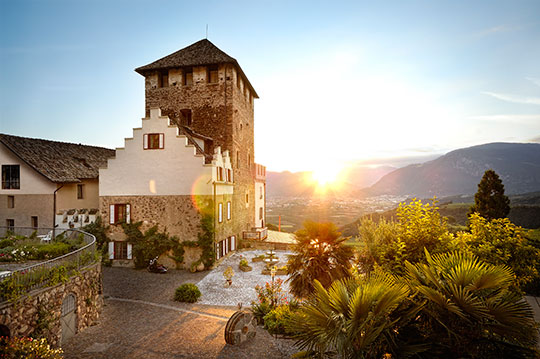 Schloß Hotel Korb, Eppan/Südtirol/Italien
Concept
In 2014 we meet for the second time doing a Jazz workshop with Helmut Nieberle, Howard Alden and Jeanne Gies at the georgeous Hotel Korb near Bolzano. Last time in spring 2013 we were excited if the plan, combining a guitar class with a vocal class, would work. It did. It even worked so well that some of the attendees promised to come back next time. We spent four absolutely thrilling days filled with music and easy living in a quite impressive ambiance. We are looking forward to offer this successful combination again and are optimistic that even more participants add much more spirit to the workshop this time.
Helmut Nieberle
You need not introduce Helmut Nieberle in Germany any more. Since 2002 Helmut acts as tutor for the approved and very much liked workshop series of Sonntag Guitars.
He has been very successfully on the road with various ensembles for decades, often and gladly with the 7-string archtop. One glance into his website is enough to give you an impression of his work and variety.
Howard Alden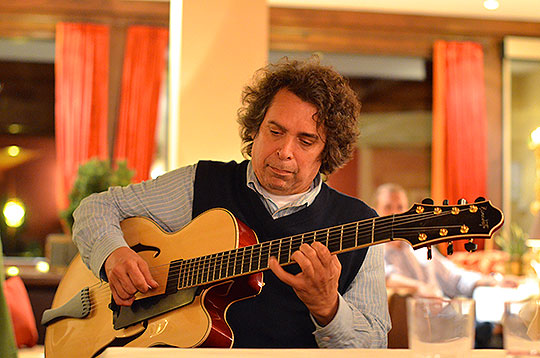 For about more than two years Howard Alden has been touring with Helmut and we can call us lucky to have him as tutor too. Howard Alden is one of the most booked Jazz guitarists in the U.S.A.. He is also specialised in 7-string guitar and he is permanently touring the East and West coast up and down. Most of the time he is working at his home town New York City. Check out his website to get an overview of the who is who he is playing with. Howard Alden also taught at the 8th International Workshop for Jazz guitar in Provence 2011.
A video of the Nieberle/Alden-duo.
Voices are the optimal match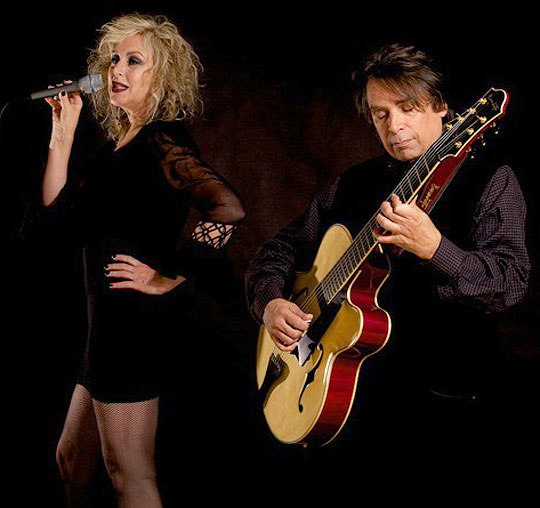 The guitar workshop includes a course for singers and songwriters. The combination of guitar and singer is a specialized, intimate art. This workshop is for: aspiring singers of all levels and genres, guitarists who sing (or want to!), and guitarists and singers who want to work as a duo. Songwriters are encouraged to bring their own material. There will be 1:1 sessions with Jeanne Gies, and opportunities to jam with the greatest guitar accompanists alive--worldwide!! All of the tutors are seasoned veterans and specialize in this unique form of musical expression. During the lessons and jam sessions, we work to increase communication between guitarist and singer and emphasize being a 'team-player.' Jeanne Gies has teamed with Howard Alden to write and perform songs lauded worldwide for their distinctive jazz-pop style and enchanting lyricism. They welcome guitarists and singers who love to write as a team.
Acclaimed vocalist Jeanne Gies has performed and recorded as a duo with the greatest (Howard Alden, Russell Malone, Gene Bertoncini, and Bucky Pizzarelli, to name a few!). She has teamed with Alden to offer highly successful workshops for singers worldwide, and gotten rave reviews in Scotland, England, France, and Brazil. Singers of all levels of proficiency are welcome, those who play guitar and those who want to learn how to sing duo with great guitar players. Jeanne's unique educational background (as a licensed Speech Pathologist) also assists singers for whom English is a second language, and those who have vocal issues due to anxiety or voice strain. All will benefit from performing for and with these dynamic instructors.
Following group workshops, students may sign up for one-on-one lessons to address individual interests. For more information, contact jeannegies@gmail.com.


Yoga + Jazz, in Bozen!
We are happy to offer an additional program exclusively for those accompanying course participants and for non-participants in general. The Yoga teacher, Gyrotonic trainer and professional dancer Anina von Molnar will conduct a Hatha Yoga course (suitable for all levels) that will take place each morning while the guitar course is running.


Please contact Anina directly for enrolment and any further questions concerning course theme or other details: 0049 821/ 5080654.
course price: 135 €
Afternoon sessions for Private Yoga training and Massage appointments are available upon request.
The Hotel
The workshop will be accommodated at the stylish and classic Schloßhotel Korb at Eppan near Bozen, owned and run by the family Dellago for generations.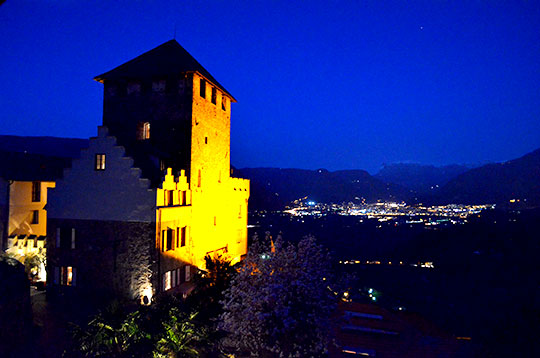 The hotel is situated in a marvelous position high above the Etsch river valley in the midst of vineyards which belong to the Family Dellago. The family runs its own winery there. As the name implies ('schloss' means castle), one part of the hotel used to be an ancient castle dating back to the 13th century. In the course of the centuries various buildings where added plus a newly constructed outhouse. The rooms are lovingly and fancyly furnished, each one individually.
Look at more photos of the hotel here:
Guests can use one indoor pool with sauna and Turkish steam bath and one outdoor pool, tennis courts and WLAN all over the buildings. The restaurant serves exquiste cuisine, attentive and professional acting stewards care for the needs of the guests.
For more details on the hotel check out their website.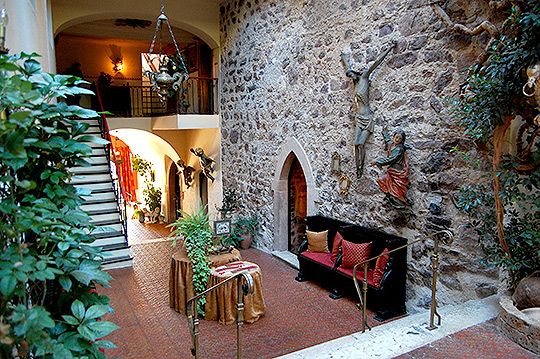 The lessons will be held in three seminar rooms, which are exclusively at our disposal during the four workshop days. With fair weather we have an option of studying outdoors on various terraces or parks.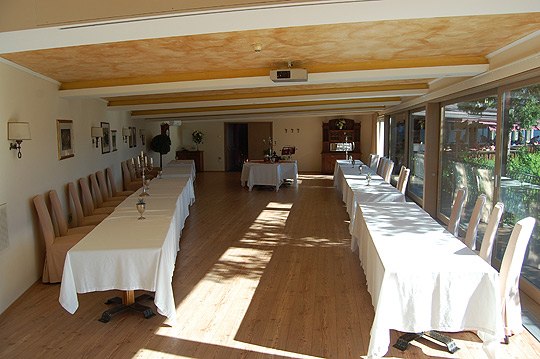 Hotel Korb offers pick up service from Bozen main station or airport for attendees who travel by public transportation.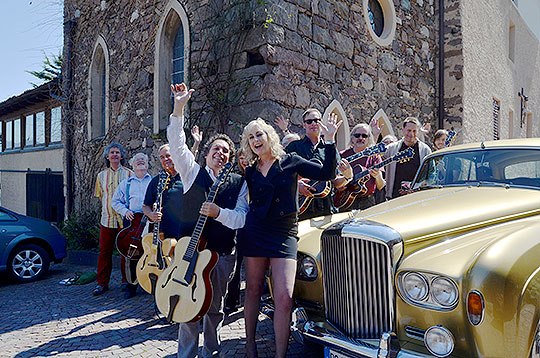 The Rooms
The hotel offers three room categories: suites for €155, renovated rooms for €115 and unrenovated rooms for €85. These prices include half-board without drinks. 

Choose your desired room category when registering.
Rooms will be assigned in order of registration subject to availability.
Booking will be done individually by the participants by calling +39 0471 636000,
info@schloss-hotel-korb.com
When booking please quote the keyword "Jazz-Workshop"
The Workshop
First course day: April 25th, last course day April 28th
Lessons will take place from 10 a.m.- 1 p.m.
We will have two guitar groups, one with each tutor. Half way through the workshop the groups will change tutors.
We will have one vocal group. Guitarists who are singers are invited to book individual lessons with Jeanne Gies.
Maximum number of participants per group is 10
Instruction by Howard Alden and Jeanne Gies will be conducted in English.
Everyone is invited to begin or join a session at any time. This is a non-judgmental, creative environment where all are encouraged to expand their musical minds and spirits.
Concert
On the last evening of the workshop a valedictory concert is planned in which every participant is invited to take part (no obligation).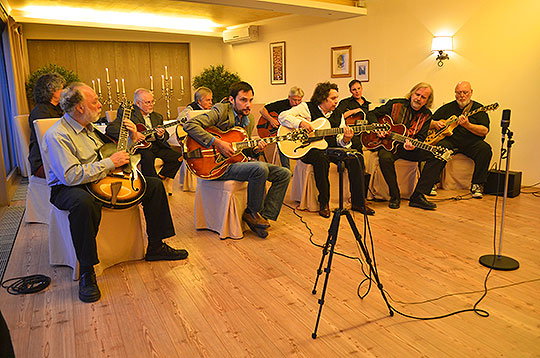 Please bring a music stand and an amp if needed.
Sonntag guitars will be available to view and sample.
Conditions
Costs for the course: 370 € 
Transfer information:
Please transfer the course fee to the account of
Stefan Sonntag
IBAN DE21720500000250801263
AUGSDE77XXX
You will be entitled to attend the course only after receipt of your payment on the account of Stefan Sonntag.
In case of cancellation
in case of cancellation until February 25th, 2014
the complete course fee minus €20,- will be refunded. After February 25th, 2014
there will be no refund.
In case there will not be enough participants the workshop will be cancelled and the money will be completely refunded.
Number of participants will be limited to max. 10 persons per group.