Workshop for Jazz Guitar with Bruce Forman (Los Angeles)
at Tenuta di Roccadia (Syracuse/Sicily)
October 10th- 13th, 2019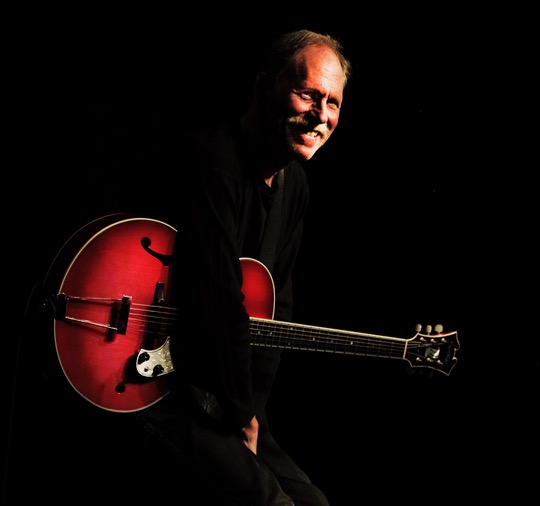 It's all about Swing and Bebop...

Sicily is stunningly beautiful, with thousands of years of impressive history. Sicily has Mt. Etna. Sicily is also the home of a good amount of jazz guitar enthusiasts.
That is why we moved the jazz guitar workshop with Bruce Forman to Sicily.
Alessandro Corso is running the glamorous Grand Hotel Ortigia in Syracuse and he is one of those jazz guitar enthusiasts. When he suggested the workshop be held in Sicily, he made me an offer I couldn't refuse. Between the Italian jazz guitar scene and his knowledge of the local facilities we had the basic requirements to kick the whole thing off.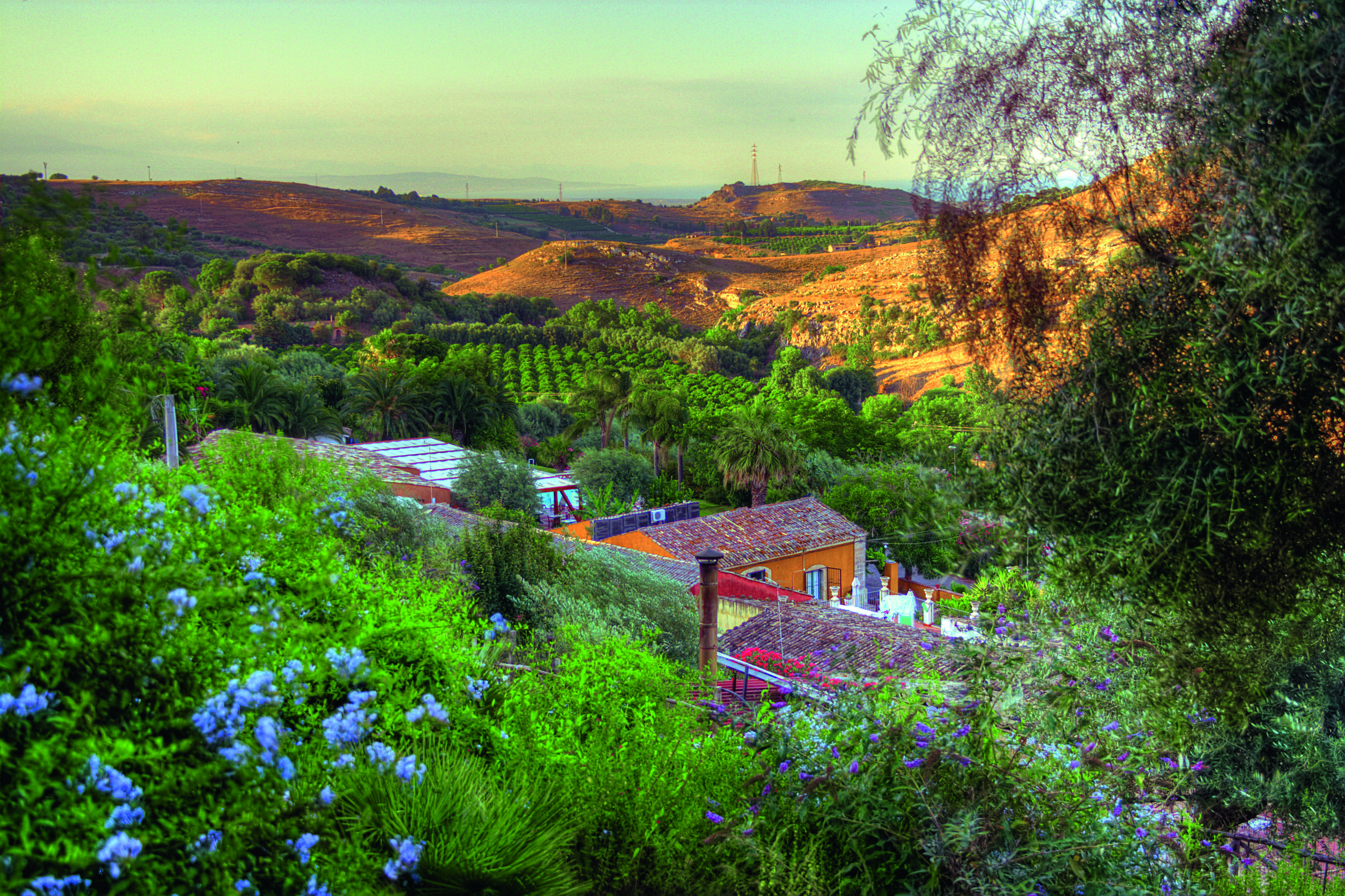 So we decided on the beautiful agritourismo hotel Tenuta di Roccadia, picturesquely situated in the back country between Syracuse and Catania. It has everything required to enjoy ourselves during a four-day jazz guitar experience...and more! Nicely furnished rooms, a restaurant serving Sicilian treats and ample space for lessons, jamming, hanging and relaxing.

With Bruce Forman we have one of the all time jazz guitar greats as an instructor for the course. His diverse musical skills range from ass-kicking bebop and old time western swing to far out improvisational explorations with Junkyard Duo.
But regardless of the genre, in the end it is music that Bruce Forman plays. His most important skill is that he always gives the tune what it needs to sound best. This skill is acquired through decades of playing with the best in jazz music. (Check out his bio below)
But not only is he a killer guitarist, he is also an outstanding teacher. He knows so much about jazz, about guitars, about music, and most importantly, he can teach the stuff he knows. Being an instructor at USC in Los Angeles, he has a long time experience in education. His humorous and sophisticated way of teaching always keeps you stoked.
Since his knowledge of jazz guitar is so deep, this workshop will feed you with information you can gnaw on for months.
And in addition to all that, Bruce Forman is a fun guy to hang with...as he likes to say: "I'm the best in my price range!"



Bio Bruce Forman

"Bruce Forman is one of the great lights of our age." Barney Kessel, Jazz Times


A hectic touring schedule; eighteen recordings as a leader, including his newest release, Junkyard Duo; countless sideman recordings including Ray Brown, Bobby Hutcherson, Roger Kellaway; soundtrack performances on three of Clint Eastwood's distinguished films—most notably Academy Award-winning Million Dollar Baby; producer, arranger, acclaimed educator, in residence at USC's Studio/Jazz Guitar Dept., when does Bruce Forman rest?

Deep immersion in American culture inspires Forman to contribute to the traditions that he drew from. Formanism (his trio project); original works like The Red Guitar; his popular podcast with Scott Henderson, GuitarWank; Cow Bop and the "road challenges" down historic byways like Route 66; JazzMasters Workshop; Junkyard Duo…these are only the latest answers to the endless question that underlies Bruce Forman's creativity. His music and life reflect every step of his journey, and demonstrate the awareness of an artist who's very much at home in the world, and at the top of his form.

The Red Guitar is serious one-man theater, incorporating great musical virtuosity and storytelling skills to explore the obsessive demands that music places on its truest followers. Junkyard Duo, scavenging music from the edge of sound, uses an unusual sonic landscape to create a rich and exciting musical palette…hobo chic at it's most utmost. And though he can shred bebop at blistering tempos with the best of 'em, he is no urban snob. Cow Bop, Forman's unique "western bebop" band, hit four separate charts with its CDs, Swingin' Out West, Route 66, Too Hick for the Room and Cowlifornia Swing. Having won the Route 66 Challenge three times with Cow Bop, he created a linear music festival in 2013, establishing a new paradigm for touring and the use of social media, which included a collaborative mentoring model for young musicians.

Bruce Forman's life and musical journey provide an American saga that is still in full swing. His Texas origins, his early career in San Francisco and New York, and his years on the road, all contribute to the unique and highly personal vision that he demonstrates today.

The Lessons

The lessons will be held daily from 10.30 to 13.30.
Bruce Forman will teach topics such as
Creative soloing
Accompaniment
Learning tunes
Swing and bebop
Voice leading
Practice approaches
Feel free to ask questions anytime during the lessons and discuss your own issues concerning guitar, improvising, practicing or any other musical topics you are interested in.
If the weather is nice we even have the opportunity to hold the lessons outdoor shaded by a sun roof.

The Hotel

Tenuta di Roccadia is a former abbey founded in 1070 which was eventually converted to a farm. Nowadays it functions as an agritourism hotel, besides the hotel they grow citrus fruits and raise animals.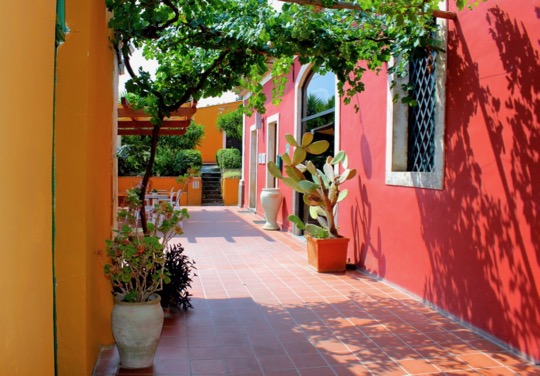 The venue is remotely located in the hills between the little villages of Villasmundo and Carlentini. The hotel is beautifully situated on a hillside with a view to the gulf of Catania and Mount Etna. Various bungalows, holding the restaurant, guest rooms and rooms for public use are spread over the property hidden among citrus trees and mediterranean flora.

The guest rooms are neat and nicely furnished. They are offered in two sizes, they are very comfortable and will make you feel at home during your stay at Tenuta di Roccadia.
The restaurant serves typical Sicilan dishes freshly cooked with local ingredients according to Slow Food standards.
The hotel site is layed out as a big park. You can retreat into the green and play guitar, practice or relax and grab a fresh orange from the tree next to you. Palm trees shade the promenades which pass by little ponds.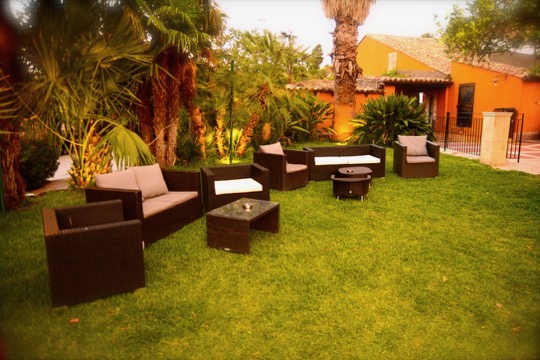 If you are tired of playing guitar for a moment you can refresh in an outdoor pool or even do various outdoor activities organized by the hotel.
For more details check the hotel's website.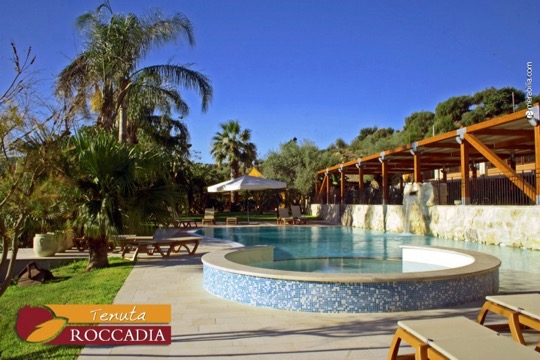 Room prices
Room prices are charged by person and night and include half-board ( breakfast and dinner):
Single room standard: €60
Double room standard: €48
Single room comfort: €65
Double room comfort: €55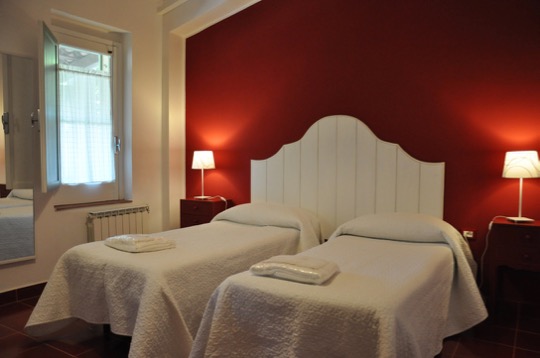 Please book your room directly at the hotel: info@roccadia.com, tel. 0039 095 990362
When booking the room indicate the keyword "Guitar Workshop" so that you get the reduced room fare.

Directions:

Please be aware that Tenuta di Roccadia has no actual address.
It is situated on Strada Provinciale SP95, 20 min from Catania airport, few minutes south-east of the town Carlentini:
Strada Provinciale 95, Contrada Roccadia 96013 Carlentini (Sr)
In order to get there from Catania airport follow the directions given by the hotel:
Get on motorway "Catania-Siracusa" and get off at exit "Lentini-Carlentini". Follow direction of "Lentini" and after a petrol station Eni turn left and follow the direction "Carlentini" (from this point you will find a sign "Agriturismo Roccadia", brown or white) and then follow the direction "Villasmundo".
Next crossing follow the direction to "Villasmundo".
The distance from this crossing to Roccadia is about 1600m.
GPS: 37.263838N 15.032700E
You better check directions on Google Maps before you leave.
If you are unsure about directions, call the hotel: 0039 095 990362

The Workshop
First course day is October 10th, last course day is October 13th
The Lessons take place from 10.30am - 1.30 pm
Number of participants: max. 15
The lessons will be held in English language
Feel free to start a session at any time
Do bring music stands or amplifiers if necessary
Sonntag guitars are available for use at any time during the workshop



Terms of application
Course fee: €460
Deadline: August 10th, 2019

Transfer information:


Bank: Stadtsparkasse Augsburg 

IBAN: DE21720500000250801263
BIC: AUGSDE77XXX

Bank adress: 
Augsburger Str. 26, 86157 Augsburg/ Germany

You will be entitled to attend the course only after receipt of your payment on the account mentioned above.

Course places will be assigned in order of application

In case of cancellation:

In case of cancellation until August 10th, 2019
 the complete course fee minus €30,- will be refunded.
After August 10th, 2019
 there will be no refund. 


In case there will not be enough participants the workshop will be cancelled and the money will be completely refunded.