Workshop for Jazz Guitar with Bruce Forman (Los Angeles, California) at Kloster Irsee/Bavaria
September 5. - 8. 2018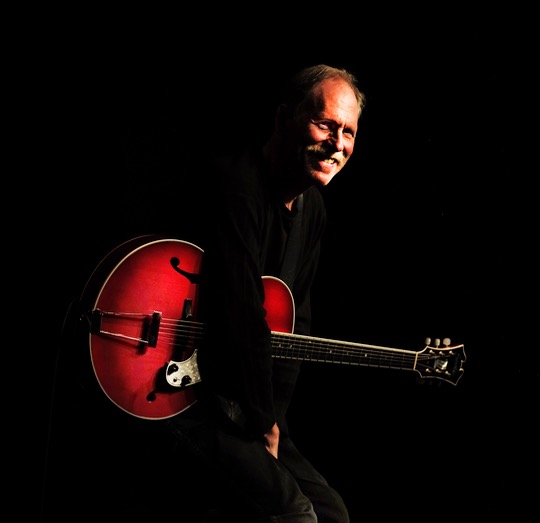 Bruce Forman will be back again for a workshop in Germany!
After we had been spending a very successful workshop with Bruce in September 2016 I am happy to present him again in the nice Allgäu region in November 2017.
Bruce could demonstrate his extraordinary skills as a guitar instructor at the 2016 course. Anyway level the participants are playing, he can support every guitarist with helpful tips, inspirations and ideas. Thanks to his rich experience gained on stage for decades his amendments and hints are always nuts-and-bolts.
He achieved his musical skills by working with numerous famous jazz musicians of the U.S. music szene ( check out Bruce' bio and website...)
Beyond that Bruce is a one-of-a-kind entertainer. On or off stage, he delights people with his never ending humor. Thanks to this talent, Bruce's lessions never become boring. He does not know how to spell "routine" and he manages to convey even challenging issues in a diverting way.
He plays and teaches according to his slogan: "Let's have fun"!

This workshop aims to guitarists who have basic jazz guitar skills available, and as well to advanced players who strive for improving their abilities for playing jazz.
Due to his long lasting experience as a tutor at USC ( University of Southern California in Los Angeles, where he took over the professorship from Joe Diorio) he knows exactly how to teach lessons and how to individually sponsor students.
Bruce feels at home both in bebop and tradtional jazz styles. Old school or modern, he knows an answer to every question.




Bio Bruce Forman

"Bruce Forman is one of the great lights of our age."
Barney Kessel, 
Jazz Times
"Bruce Forman is a wonderful guitarist; extremely versatile and very musical…a first-rate accompanist and soloist."
Kenny Burrell
A busy touring schedule; seventeen recordings as a leader; countless sideman recording date--including a featured role on one of jazz great Ray Brown's last albums; soundtrack performances on three of Clint Eastwood's distinguished films--the Oscar-winning Million Dollar Baby, Oscar-nominated Flags of Our Fathers and Hereafter; producer, arranger, and acclaimed educator; over twenty appearances at the landmark Monterey Jazz Festival; in residence at USC's Studio / Jazz Guitar Dept.—when does Bruce Forman rest?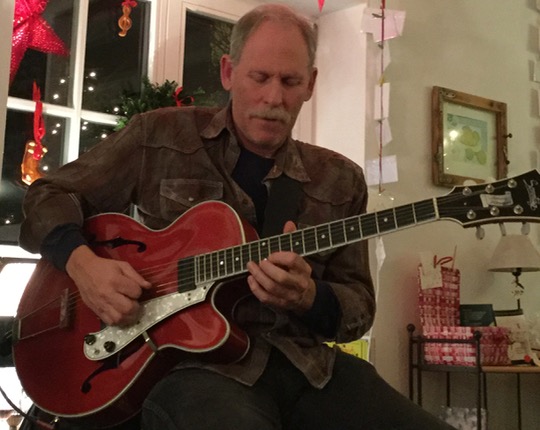 Forman is a seasoned jazz player with top-level skills as a leader, entertainer and sideman. He creates soulful, lyrical melodies, inventive harmonies, and solid accompaniment. Though he can shred bebop at blistering tempos with the best of 'em, he is no urban snob. Cow Bop, Forman's unique "western bebop" band, hit four separate charts with its CDs, Swingin' Out West, Route 66, Too Hick for the Room and Cowlifornia Swing.
A new composition, The Red Guitar, has received wide acclaim. It may be the only jazz libretto where the narrator and the featured instrumentalist are the same performer. The Red Guitar requires great virtuosity, but it is much deeper than a simple showcase for Forman's abilities. It is serious one-man theater, exploring the obsessive demands that music places on its truest followers.
Forman is also a distinguished music educator and in-kind philanthropist. His national music-mentoring program, JazzMasters Workshop, provided over 2,500 sessions for young students. Always free of charge, JazzMasters' sessions occurred during after-school hours, and the program enriched lives and helped develop numerous musicians who have gone on to promising careers. Bruce's life and musical journey provide an American saga that is still in full swing. His Texas origins, his early career in San Francisco and New York, and his years on the road, all contribute to the unique and highly personal vision that he demonstrates today. Deep immersion in American culture inspires him to contribute to the traditions that he drew from. Cow Bop's "road challenges" down historic byways like Route 66; original works like The Red Guitar; JazzMasters Workshop—these are only the latest answers to the endless question that underlies Bruce Forman's creativity. His music and life reflect every step of his journey, and demonstrate the awareness of an artist who's very much at home in the world, and at the top of his form.



The venue

© H-R Flugbild, Oberstdorf

Kloster Irsee ( meaning abbey of Irsee) is a venue founded in the 12th century which lies near the city of Kaufbeuren enclosed in the sweet and green hills of the Allgäu region.
It was originally used as a castle, but later Bendictine monks took over the premises and used it as their monastery by beginning of the 19th century. After an inglorious period during the Third Reich our host for our jazz workshop, the Schwäbisches Tagungs- und Bildungszentrum started their business in the former abbey.
The premises please the guest very much by their faithful restoration of its baroque style. High stucco ceilings, marble staircases, georgeous ceiling paintings and lots of decoration conjure a wonderful, almost solemn atmosphere.
© Achim Bunz, München

We can conduct our lessons in a spacious room, lit by many windows which has promise to a pleasant stay.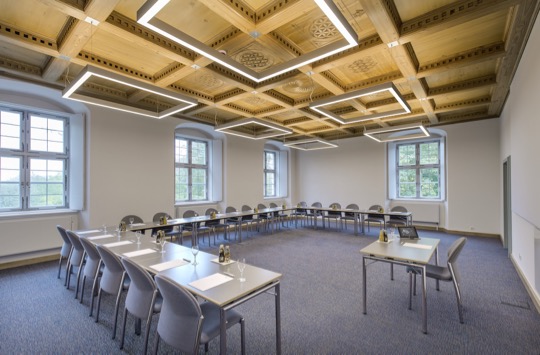 © Achim Bunz, München

The single and double bed rooms are furnished plain but tasteful, which lets you feel the spirit of the former abbey.
© Achim Bunz, München

A self service cafeteria invites for a break in the afternoon. A traditional Swabian Gasthaus (restaurant) on the abbey lot serves dishes for lunch typical for the Allgäu.
We have dinner at the "Stiftskeller", a restaurant in the historic basement. These rooms we can also use for jamming or practicing during off lesson hours and during convival evenings. We can sit in an extra compartement separated from other guests where we can dwell on our sessions after dinner.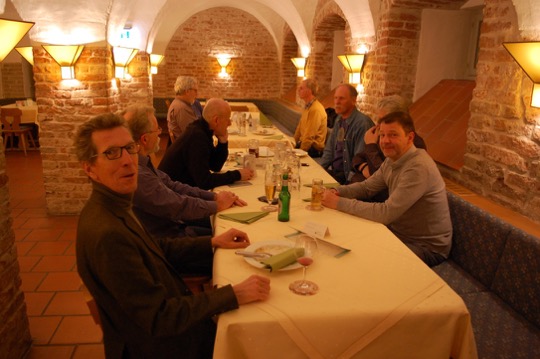 © Achim Bunz, München

Baroque and jazz makes a fine and subtle compostion when we will be persueing our passion for jazz for four days. Unhindered we can meditate and practice our music in the historic venue of the abbey, we will be the monks of jazz.
Hotel adress:
Kloster Irsee
Klosterring 4
87660 Irsee/ Germany

Hotel fees
Double room: €55 p.p./ night
Single room: €67 p.p./ night
Dinner: €19 p.p./ night (buffet of fresh salad, cold appetizers, two main courses, cheese specialties and dessert)
Breakfast: €11 p.p./ night
Room reservation will be effected by the workshop organizer Sonntag Guitars.
Please note your desired room and number of people on the application form

The Workshop
First course day is September 5th, last course day is September 8th
The Lessons take place from 10.30am - 1.30 pm
Number of participants: max. 15
The lessons will be held in English language
Feel free to start a session at any time
Do bring music stands or amplifiers if necessary
Sonntag guitars are available for use at any time during the workshop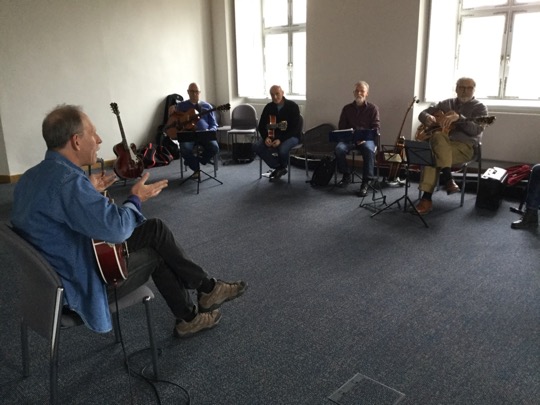 Terms of application
Course fee: €465
Deadline: July 3rd 2018

Transfer information:

Bank: Stadtsparkasse Augsburg 
IBAN DE2172050000250801263
AUGSDE77XXX


You will be entitled to attend the course only after receipt of your payment on the account mentioned above.

Course places will be assigned in order of application

In case of cancellation:

In case of cancellation until July 3rd 2018
 the complete course fee minus €30,- will be refunded. After July 3rd 2018
 there will be no refund. 

- In case there will not be enough participants the workshop will be cancelled and the money will be completely refunded.