10th International Workshop
for Jazz Guitar 2014
in Provence/South Of France

Instructors

from October 21. - October 25. 2014

at
MAUSSANE-LES-ALPILLES, RELAIS DU SILENCE VAL BAUSSENC (www.valbaussenc.com )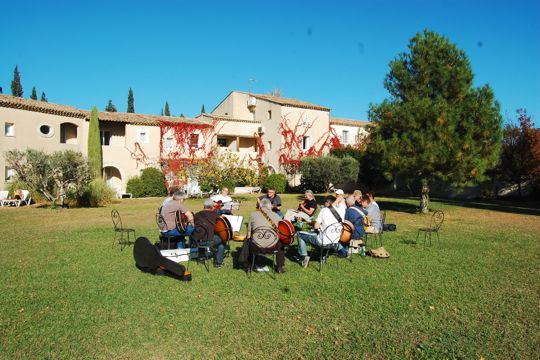 At the 10th International Workshop for Jazzguitar we may welcome co-organizer and regular instructor Uli Hoffmeier from Berlin, and Mimi Fox from San Francisco/ U.S.A. as guest instructor.

Uli and I were lucky to meet Mimi Fox at the Wrexham Summer School in Wales some years ago. We were immediately stunned by her playing. She stands her ground by playing solo as well as playing in a group with a highly dynamic and very crative way to express herself. She likes to add a good amount of Blues which gives her playing a nice edge.
We also liked her way of teaching. She presented her ideas and concepts clear and straight, easy to understand for all levels.
So we knew we wanted Mimi as a guest tutor on our workshop and agreed with her to invite her to Provence one day. Now 2014 is the year!
You find detailed info on Mimi and her work on her website:
http://www.mimifoxjazzguitar.com/bio.html



Like every year Uli Hoffmeier will bring in his experiences he gains from his playing with the international renowned "Palastorchester". He demonstrates his abilities of solo guitar in his quartett "Premier Swingtett" where he also can prove his qualities as an entertainer. Learn more on Uli Hoffmeier on www.uli-hoffmeier.de, www.premier-swingtett.de, www.palast-orchester.de.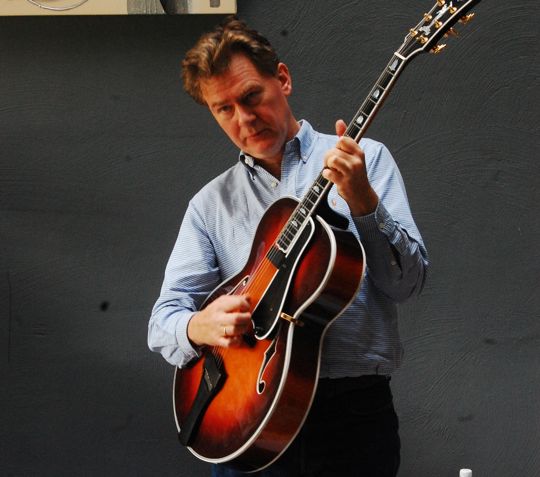 We are looking forward to move into the pleasant Hotel Val Baussenc again since the hotel management and staff will welcome us with open arms for the fouth time.

The Venue

The hotel Relais du Silence Val Baussenc is situated at the eastern exit of Maussane-Les-Alpilles.
Maussane is a characteristic town of the South of France at the foot hills of the Alpilles, a ridge which cuts through Provence from east to west.
The town has an idyllic market square on which a market takes place once a week, and an olive oil mill which produces one of the best oils of France.
Numerous vineyards surround Maussane, some of them produce award-winning wines.
The Camarque is only a half an hour drive away. Arles, the town on the banks of the Rhone river, is situated just a few kilometers west of Maussane. An ancient roman amphitheater and theater can be visited there.
North of Maussane the world-famous remains of Les Baux are looking down from the Alpilles. North of this place, on the other side of the Alpilles, lies the little town of St. Remy where Vincent van Gogh spent his sunset years in a sanatory.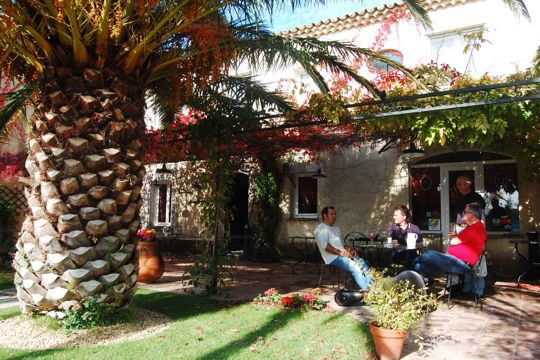 The hotel is just a short hop from the center of Maussane. It is a three star venue and it's hidden from the road by olive and cottonwood trees.
The comfortable rooms have windows facing the green surroundings.
The outdoor facility is created like a park, a pool is at the guests' diposal.
You enter the hotel and find yourself in a spacious lobby with a fire place, which offers enough room for spontaneous sessions.
At the restaurant they serve typical delicious provencal meals, the tables offer a view into the park, .
A nice patio lushly overgrown by vines invites for relaxing and talking guitars while having a pastis in the afternoon.

The lessons will be held in the lobby and in the seminar room.
In the town there is a hall available where the traditional final concert is to be held.
The secluded setting in the green and the open, light-flooded hotel rooms allow the mind to flow and breathe and gives the musical phantasy room to absorb new inspirations.
And then the pleasures of Provence style cuisine of the restaurant will complete our well-being.
According to Gilles Ribaudeau they cook at a very high level at the Val Baussenc. Gilles will know, since he himself was running his own restaurant some time ago.

The Rooms

The hotel has 23 double bedrooms which are reserved exclusively for us. In case we need more, there will be additional rooms available at a Best Western hotel situated next to the Val Baussane, for guests or other visitors of the course.
Unfortunately we do not know the conditions yet, which might be slightly different, but we will post them in time.
We will have meals together at the Val Baussenc (breakfast €6,- , dinner €15,-)
So early booking will ensure you will get a room at the Val Baussenc. We will allocate the rooms according to the chronological receipt of payment.



The Workshop

First course day: Oct. 21., last course day Oct. 25. .

Lessons will take place from 10 a.m.- 1 p.m.

We will have two tutor groups, one with each tutor. Half way through the workshop the groups will change tutors.


The language of Mimi Fox' lessons will be English, Uli Hoffmeier will teach in "FrenDenglish" (French, Deutsch, English)

Everybody is invited to begin or join a session at any time.

On the last evening of the workshop a valedictory concert is planned in which every participant will hopefully take part.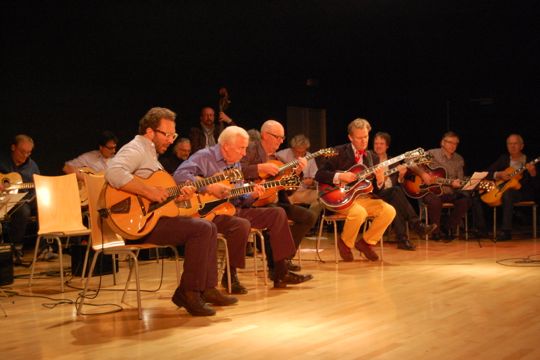 Please don't forget to take a music stand and an amp if needed.

There will be Sonntag guitars available for being tested.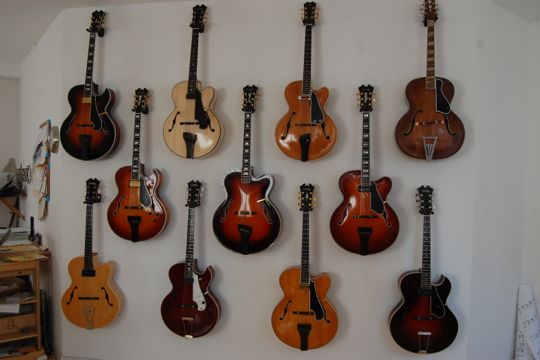 Conditions:

Deadline: August 21. 2014

Costs for the course:

Single: €820
Double: €1078 (1 participant + company)


Workshop fee includes room price with half-board for six nights from Oct. 20.- Oct. 26. 2014 (Oct. 20. day of arrival, Oct. 26. day of departure)

Transfer information:

Please transfer the course fee to the account of

Ulrich Hoffmeier
Bank: Postbank Berlin
IBAN: DE24100100100189545104
BIC: PBNKDEFF


You will be entitled to attend the course only after receipt of your payment on Ulrich's account.


We will send you the confirmation as soon as the money comes through.



In case of cancellation:
- in case of cancellation until August 21. 2014 the complete course fee minus €30,- will be refunded. After August 21. 2014 there will be no refund.
- In case there will not be enough participants the workshop will be cancelled and the money will be completely refunded.
- Number of participants will be limited to max. 20 persons.