Trefor Owen ist der Organisator der Wrexham Summer School, des wohl größten dedizierten Jazzgitarren-Festvals der Welt. Seit 2000 versammelt er Jahr um Jahr die besten Archtop-Gitarristen der Welt in Nord Wales (siehe Mundell Lowe und Bruce Forman). Diese erklären dort als Lehrer in mehreren Klassen einer großen Teilnehmer-Schar die Geheimnisse der Jazzgitarre. Zusätzlich gibt es allabendlich hochkarätigste Konzerte mit den Dozenten und weiteren Protagonisten der europäischen und der internationalen Jazzgitarren-Szene. Seit 2002 begleitet Sonntag Gitarrenbau dieses Festival als Sponsor.
Der waschechte Waliser ist ein begeisterter Fan und ein profilierter Vertreter der Jazzgitarren-Szene gleichermassen, der seine breiten Kenntnisse und Kontakte stets freigiebig allen Interessenten zur Verfügung stellt. Für diese unermüdliche Tätigkeit gebührt ihm an dieser Stelle ausdrücklicher Dank.
Internationally Acclaimed Jazz Guitarist and Educator
Trefor Owen, who is a native of Anglesey and a Welsh speaker, is one of Britain's finest guitarists and a familiar figure on the U.S. Jazz guitar scene. His recently released CD »Wales Plays Brazil« has won widespread critical acclaim and is featured regularly on Jazz FM's »Dinner Jazz«.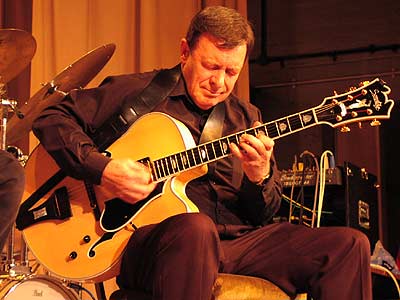 Trefor has toured the U.K. extensively and performed in the U.S.A with the legendary guitarist Mundell Lowe, and has made appearances at the New York Guitar Show, Long Island and at the NAMM Show. In July 1998 he was invited to the Chet Atkins Convention in Nashville, where he performed a guitar duo with Jim Nichols in the main auditorium, and conducted a workshop. This event was followed by a return visit to California where he played with two of Los Angeles' foremost guitarists Ron Eschete and John Pisano. On the same tour Trefor made appearances in San Francisco at Enrico's, and at the famous Pearl's Jazz Club with guitarist Bruce Forman. He also performed at the Acoustic Guitar Show in San Rafael. He recently toured California for the second consecutive year, appearing in San Francisco and at John Pisano's Guitar Night at Spazios, Sherman Oaks, L. A. During the tour he also performed a clinic for JazzMasters Workshops at Carmel, the first non American guitarist to do so.
Teaching Experience
In August 2005, for the sixth consecutive year, he was be senior tutor of a team of international guitarists tutoring and performing at the North Wales International Jazz Guitar Festival and Summer School in Wrexham.
Trefor Owen has considerable experience in tutoring clinics and workshops. Among the many he has conducted are celebrity workshops at Cork International Jazz Festival, London's Guitar Institute, the Zinc Bar New York, New York Guitar Show in Long Island and, as mentioned above, the Chet Atkins Convention in Nashville. Trefor believes that Jazz should be both beautiful and communicative and accomplishes these qualities in his own playing, with his superb sound, fluid melodic lines and punchy rhythm. 
Trefor Owen was for eight years Associate Lecturer in Jazz Guitar at Leeds College of Music. He has been a tutor at Liverpool Community College since 1984, and in 1995 began to teach at Wigan and Leigh College.
Foto-Galerie